Published On 23 May,2021 06:49 pm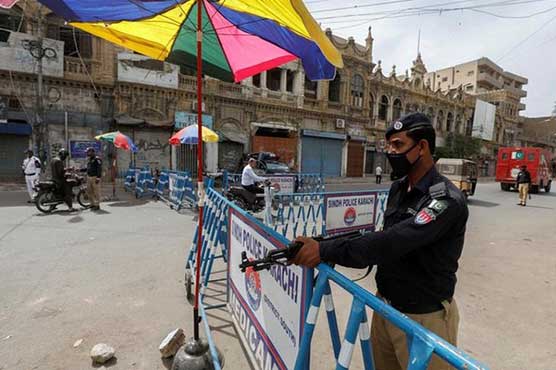 Educational institutions, wedding halls, parks to remain closed for next 15 days in Sindh: CM
KARACHI (Dunya News) - Chief Minister (CM) Sindh Syed Murad Ali Shah has announced that educational institutions, wedding halls and parks across Sindh including Karachi will remain completely closed for the next 15 days.
He said that indoor and outdoor dining will also be completely banned in restaurants. The public has to implement SOPs to avoid tough decisions.
Addressing a press conference, Murad Ali Shah said that since Eid-ul-Fitr, the situation of coronavirus in the province including Karachi has become very worrying.
He said that the situation would not have been so bad if the federation had accepted the proposal to close inter-provincial transport.
CM said that steps have been taken as per the recommendations of the Corona Task Force which will be implemented from May 24. Educational institutions will remain closed for the next two weeks, he added.
Murad Ali Shah alleged that the water supply was further reduced when the Sindh government protested against getting less water from its share. The water supply to Sindh has been reduced by 35% to 37% while the supply to Punjab has been improved, said CM.
He added that during the last one-week the positive cases ratio has been recorded at 8.37 percent that was quite dangerous. The CM said that when Ramzan was started, the ratio of the cases was lower in Sindh than other provinces. As the month of Ramzan kept passing the number of cases went on increasing because inter-provincial transport services kept plying and moving passengers from one province to the other.
"Had it [transport] been banned for two weeks as was suggested by the Sindh government the pandemic would have been contained," he deplored.Murad Ali Shah categorically said that in such a situation when cases of coronavirus were on the rise and death rate was also showing an upward trend, relaxation in the restrictions could not be considered.
"We may impose more and strict restrictions, if the people dare to defy the SOPs," he warned.
He said that marriage halls, expo halls, parks, Indoor Gyms, sports facilities, amusement parks, cinemas, beauty parlors, shrines and all tourist spots have been closed for next two weeks from Monday. "All educational institutions, including schools, colleges and universities have been closed all over Sindh till further orders," he said and added transport has been allowed with 50 percent occupancy of their capacity.
Mr Shah said that shops, including supermarkets would operate from 6 am to 6 pm. "We would not allow supermarkets to operate under the pretext of having a pharmacy," he said and added pharmacies at hospitals and as separate stores would operate round the clock. The restaurants would offer only take away and home delivery service.
"Minister Health Dr Azra Pechuho said that more vaccinations were being procured to cover the entire population. She added that mobile vaccinations units were being launched to cover elderly bed-ridden people.