Like-minded group is not forward bloc: Jahangir Tareen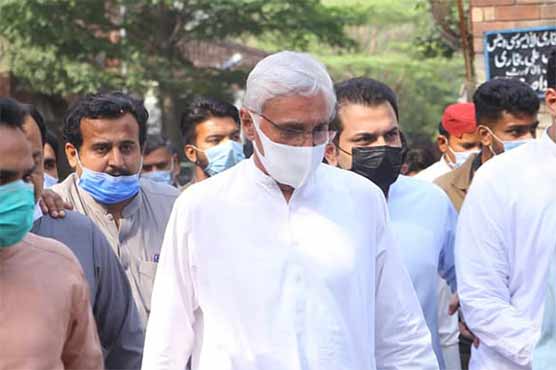 Jahangir Tareen's interim bail is extended till May 31.
LAHORE (Dunya News) – Pakistan Tehreek-e-Insaf (PTI) leader Jahangir Khan Tareen Wednesday said his like-minded group is not a forward bloc while stressing that he is still a part of PTI.
Jahangir Tareen, along with his companions, talked to media outside the Lahore Judicial Complex and said Prime Minister Imran Khan is a just person. He said he will definitely get justice.
The PTI leader went on to say that he has submitted complete money trail to the Federal Investigation Agency (FIA). He complained that his like-minded group is being treated inappropriately by the Punjab government.
Jahangir Tareen demanded the provincial government to stop politics of revenge against his group.
On the other hand, a sessions court in Lahore extended the interim bails of Jahangir Tareen and his son Ali Tareen till May 31 in two cases pertaining to money laundering.
Additional Sessions Judge Hamid Hussain conducted hearing as Jahanir Tareen and Ali Tareen appeared before the court. The judge inquired about the investigation progress.
The FIA officer told the court that the investigation is ongoing as the record is being inspected and submitted the inquiry report in the court. He told that heavy transactions were made and ninety percent the record has been acquired.
Jahangir Tareen's lawyer maintained that the FIA is demanding record of 2008-09 from his client and the complete data is available.