Published On 10 May,2021 09:17 pm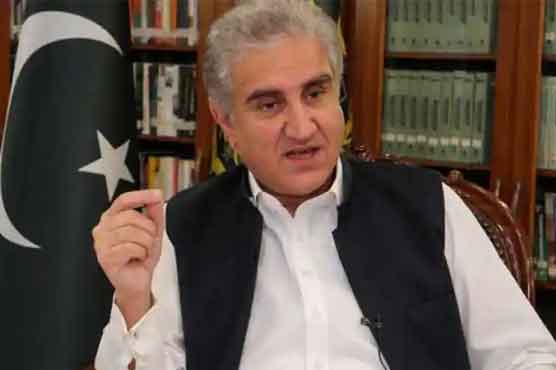 Pakistan has no intention of providing air base to US: FM
LAHORE (Dunya News) - Foreign Minister Shah Mahmood Qureshi has said that Pakistan has no intention of giving airbase to the United States, speculations are being made in this regard adding that Pakistan wants better relations with the new US administration and the US also appreciates Pakistan s role in Afghanistan.
Talking on Dunya News program "Nuqta-e-Nazar" , the foreign minister said that Pakistan and Saudi Arabia have a historic relationship and the brotherly country stood by us in every difficult time. Saudi Arabia s role regarding Kashmir issue is not hidden. India has always denied the role of a third party to the Kashmir dispute. I don t think India is ready for mediation, said Shah Mahmood. The only way forward is through negotiations as both countries have nuclear arsenals and cannot engage in a war, he added.
He said that we have a loving relationship with Saudi Arabia. The Prime Minister explained his point of view to Saudi Arabia. During the three-day visit of the Prime Minister, we set our course. He said that people had spread false propaganda about Saudi-Pakistan relations. Later, a delegation from Saudi Arabia will visit Pakistan including Saudi Foreign Minister.
Shah Mahmood Qureshi said that Saudi Arabia also wants peace in Afghanistan. We also want Afghanistan to decide its future through dialogue. Neighbors are not interfering in the internal affairs of Afghanistan. If anarchy spreads there, we will also suffer. The solution to Afghanistan issue is in negotiations not in war, he added.
When asked by the senior journalist Mujeeb-ur-Rehman Shami about the news circulating in the media that Pakistan was giving airbase to the United States, FM clarified that Pakistan has no intention of giving air base to the United States.
During the program, host Ajmal Jami also raised the question that Joseph Biden had said several times before he was elected as US President that after withdrawal of forces from Afghanistan, we will need bases abroad, answering Shah Mahmood said that speculations are being made in this regard.
In response to another question, he said that Pakistan wants the misunderstandings in the brotherly countries to be removed, Pakistan has good relations with the Muslim Ummah at the moment, and relations with Qatar, Yemen and Iran are improving.
Pakistan has historical relations with China. Pakistan does not need to join any camp. India had good relations with Russia and now it is a strategic partner of the United States. Pakistan-US relations have been volatile.
The Foreign Minister condemned the atrocities committed in Al-Aqsa Mosque and said that no dialogue was held regarding Israel in Saudi Arabia, stressing that there was no pressure on Pakistan regarding Israel. Saudi Arabia did not change its position on Israel despite the pressure, he added.
Replying to a question on Kashmir, he said that PML-N should not politicize Kashmir issues. My position is very clear on Kashmir adding that not all issues of occupied Kashmir are an internal matter of India.