Court extends interim bails of Jahangir Tareen, Ali Tareen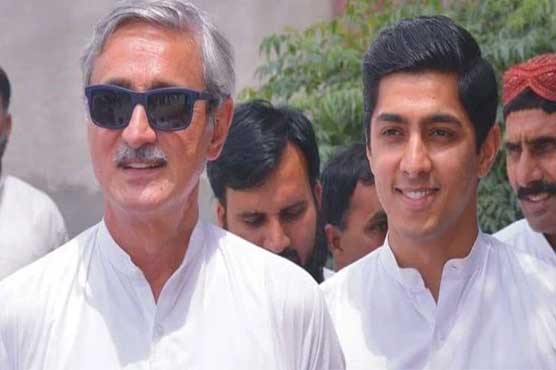 Court extends interim bails of Jahangir Tareen, Ali Tareen till May 19
LAHORE (Dunya News) – A Sessions Court in Lahore has on Monday extended the interim bails of Jahangir Tareen and his son Ali Tareen till May 19 in the case pertaining to money laundering through sugar mills.
The court barred the Federal Investigation Agency (FIA) from arresting Jahangir Tareen and Ali Tareen.
Jahangir Tareen talked to media after the court hearing and denied reports of contacts with opposition's Pakistan Muslim League-Nawaz (PML-N) and Pakistan Peoples Party (PPP).
Talking to media persons along with several lawmakers and ministers, the PTI leader said that he is not afraid of any investigation and has never demanded an end to cases against him.
Jahangir Tareen also said that his cases against him are not criminal in nature and Federal Investigation Agency (FIA) has nothing to do with them as everybody knows that the lawsuits were filed because of some other reasons.
Referring to meeting of pro-Tareen group with Prime Minister Imran Khan to voice their concerns on the cases, Jahangir Khan Tareen said that meeting between his friends the premier was productive and Imran Khan assured that justice will be done. Tareen also claimed that he enjoys support of many people from within the party.