Jahangir Tareen is a friend, no one will be treated unfairly: PM Imran Khan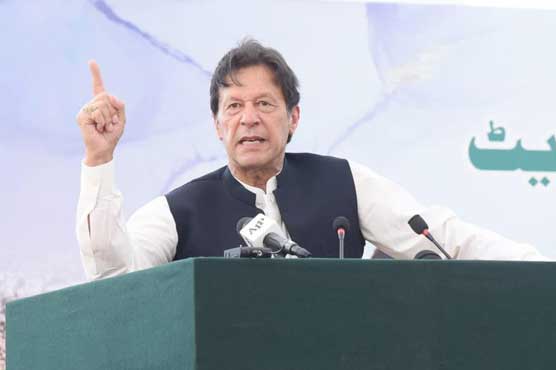 Jahangir Tareen is a friend, no one will be treated unfairly: PM Imran Khan
ISLAMABAD (Dunya News) – In a meeting with Jahangir Tareen's like-minded group, Prime Minister Imran Khan said that no society can progress without the rule of law. The PM assured that no one will be wronged and justice will be delivered.
The group, led by MNA Raja Riaz, included Nauman Langrial, Abdul Haye Dasti, Nazir Ahmad Chauhan and met with PM Imran Khan in Islamabad on Tuesday.
According to sources, Raja Riaz said to the PM that Jahangir Tareen's services to the party are not hidden from him, adding that the group only wants justice for Tareen, not relief.
Nazir Chauhan said that it seemed like Tareen was being specifically targeted by SAPM Shahzad Akbar while Nauman Langrial alleged that after nothing was found in the sugar scandal, other cases were opened against Tareen.
The members demanded that Shahzad Akbar and his team be separated from the matter and an inquiry be conducted by a judicial commission.
The Prime Minister listened intently to the concerns put forth by the group but rejected their request to form a commission to investigate the matter.
"Jahangir Tareen is a personal friend and important leader of the party, rest assured no one will be wronged", said the PM.
According to Dunya News sources, Prime Minister Imran Khan asked the members to have trust in him and assured that there would be no injustice with anyone.
The PM refused to accept any kind of pressure on the ongoing Sugar Commission investigation, and said that the whole process would be non-discriminatory.
"If anyone thinks I will be pressurized into stopping the investigation, they are mistaken", said the PM.
Addressing Raja Riaz, the Prime Minister said that many of the present members joined PTI very late. He made it clear to the members that he would not avoid doing what's right just to stay in power as the Prime Minister.
Talking to media representatives after the meeting, Raja Riaz said that the meeting with the Prime Minister was held in a very cordial atmosphere and he assured that justice would be delivered in the case of Jahangir Tareen.
When asked about SAPM Shahzad Akbar, Raja Riaz said that the matter was also brought to the notice of the Prime Minister, on which he said that the issue should be left up to him.
"The PM said that all of you are my companions, there will be no injustice with even my opponents. I will not allow anyone to be wronged", told Raja Riaz.