Rift between PM, Tareen result of conspiracy: Like-minded group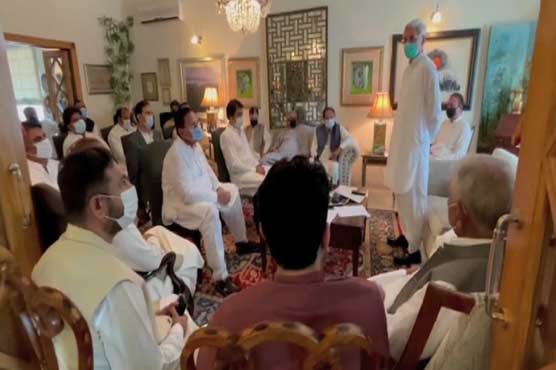 The participants of the meeting demanded to remove Shahzad Akbar from the case.
ISLAMABAD (Dunya News) – The like-minded group of Jahangir Tareen on Tuesday claimed that the rift between Prime Minister Imran Khan and estrange Pakistan Tehreek-e-Insaf (PTI) leader was a result of conspiracy.
According to the inside story of a consultative meeting of the like-minded group held with Jahangir Khan Tareen in chair. Sources said that the participants of the meeting while demanding to remove Shahzad Akbar from this case said that the prime minister should include politicians in his consultations.
The participants said that Shahzad Akbar held many press conferences but the result was zero, adding that PM Imran should distance himself from non-political advisers.
Speaking on the occasion, PTI MNA Nazir Chauhan said that Imran Khan should tell us what are the services of Shehzad Akbar for the party.
Chohan said that such people are not even the enemy of PTI but also the enemy of the prime minister, adding that Foreign Minister Shah Mahmood Qureshi's yesterday's statement could not be of a sincere companion.
PTI leader Ajmal Cheema said that the previous political affiliations of these people were not hidden from anyone but we won as an independent candidate and joined the party. He said he joined the PTI at the request of Jahangir Tareen.
"We have joined the PTI to raise the standard of justice, but surprisingly, injustice is being done with those who helped the party to come to power," he said.