Published On 21 April,2021 03:52 pm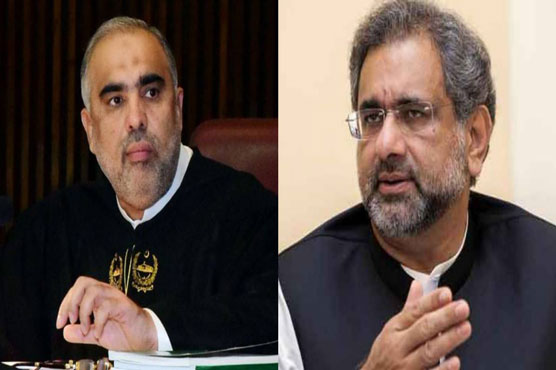 Letter states that Shahid Khaqan has disregarded authority of NA Speaker.
ISLAMABAD (Dunya News) – Letter has been issued to former prime minister Shahid Khaqan Abbasi over verbal spat with Speaker of National Assembly Asad Qaiser.
The letter states that the speaker has taken serious note of Shahid Khaqan Abbasi's misbehavior and disregard of Chair and accepted parliamentary norms.
"The Honorable Speaker is of the view that you have disregarded his authority and by your such act the smooth running of the proceedings of the National Assembly. By your such act you have interrupted and obstructed the business of National Assembly and ridiculed the Chair", the letter stated.
Letter further said that Shahid Khaqan Abbasi is required to tender apology and explain his position within seven days of receipt of the letter and if reply is not received within such time, it will be presumed that the PML-N leader has no explanation to offer.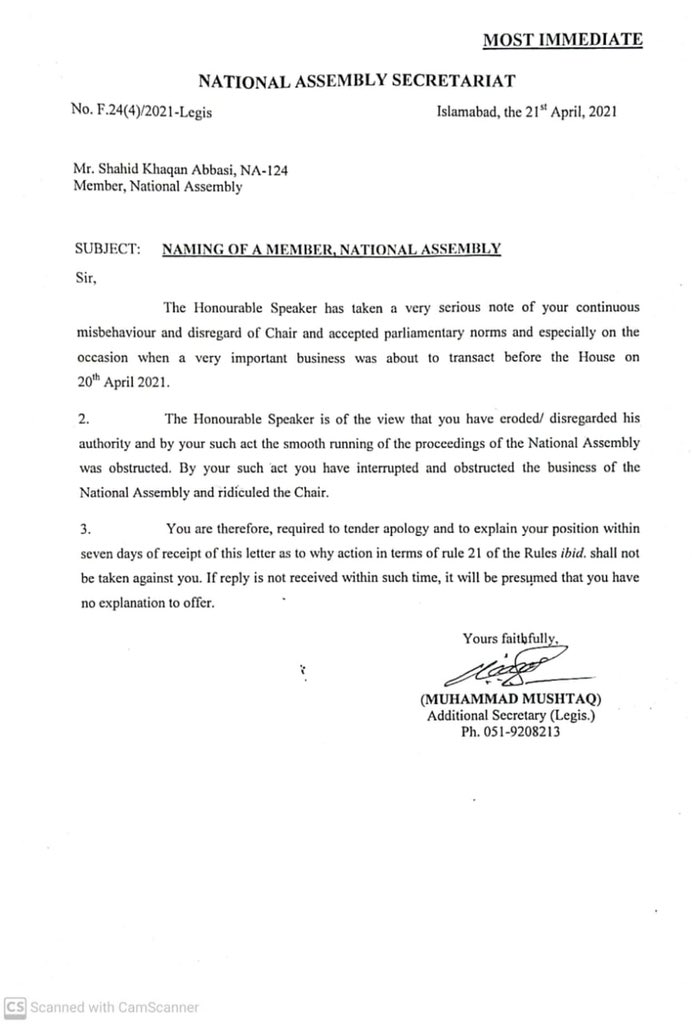 Earlier on April 20, during NA session, harsh words were exchanged between the Speaker National Assembly Asad Qaiser and Shahid Khaqan Abbasi. According to sources, when Shahid Khaqan Abbasi used unparliamentary language to target Asad Qaiser, the Speaker also lost his cool and directed the former PM to stay in his limits.
Addressing the Speaker, Shahid Khaqan Abbasi said that he was making the issue controversial in the House. "Yesterday, you adjourned the session and called a meeting today. If you had to bring a resolution, you should have spoken to the opposition first", said Abbasi.
"Unfortunately, this resolution is not enough," he said. "You have tabled a resolution, we should be given time to go through it. We want a unanimous resolution to be passed".
Khaqan Abbasi said that instead of a special committee, a committee of the whole should be formed.