Sheikh Rashid announces to move SC against TLP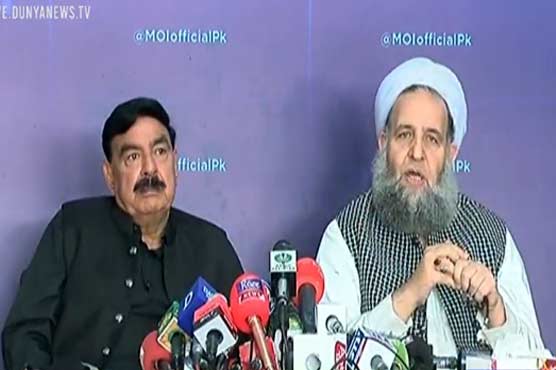 He said that the notification to ban TLP will be issued today
ISLAMABAD (Dunya News) – Interior Minister Sheikh Rashid Ahmed on Thursday said that the notification to ban the Tehreek-e-Labaik Pakistan (TLP) will be issued today and another summary for the dissolution of the party will be submitted to the Supreme Court of Pakistan.
Addressing a press conference along with Minister for Religious Affairs Noorul Haq Qadri in Islamabad on Thursday, he said that the summary has been approved, by circulation, has been approved by the federal cabinet and the Order of Proscription of TLP would be issued soon.
The minister said besides the two martyred police constables a total of 580 other personnel received injuries in the violent clashes and 20 vehicles were either burnt or severely damaged by the mob.
He said Prime Minister Imran Khan has especially lauded the law enforcement agencies personnel for valiantly standing up to the violent mobs. He said no leniency would be tolerated and all those involved in creating the law and order situation would be dealt with.
---
Cabinet approves summary to ban TLP
---
Earlier, federal cabinet approved a summary from Interior Ministry seeking a ban on the Tehreek-e-Labaik Pakistan (TLP) under the anti-terrorism law.
Prime Minister Imran Khan has already given approval to the summary regarding ban of TLP after days of violence across the country in which at least two policemen lost their lives.
Previously, Sheikh Rashid Ahmed announced the government decision to ban Tehreek-e-Labbaik on request of Punjab government.
He said that two policemen were martyred and 340 personnel sustained injuries due to violent protests while the party's workers also tried to take a number of policemen hostage to force the govt to accept their demands.
Later, speaking exclusively in Dunya News program "Dunya Kamran Khan Kay Sath", Interior Minister Sheikh Rasheed said that everyone is on board on the issue of banning TLP. The decision was made with forethought because these people do not want to backtrack from the politics of sit-in.
To a question, the minister said that he had never been with TLP and had never met Khadim Hussain Rizvi. "I had stopped the Muslim League from making amendments in the assembly," he said.
---
Seven cases lodged against TLP leaders, workers
---
Meanwhile, seven cases had been lodged in Islamabad against the leaders and workers of Tehreek-e-Labbaik Pakistan (TLP) and teams have been formed for arrests.
All seven cases have been filed on the complaints of police officials. Sections of attack on police personnel, interference in government affairs and terrorism are included in the cases.