Published On 14 April,2021 11:32 pm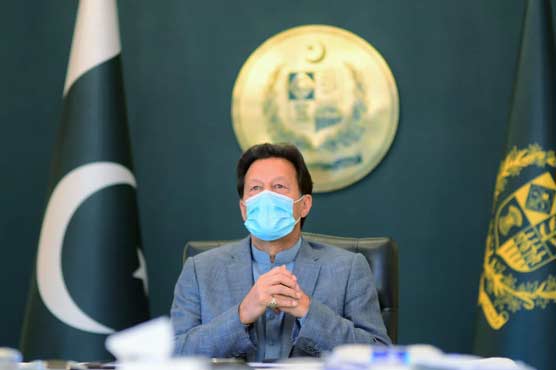 Sheikh Rashid said the issue of ban on TLP has been sent to the federal cabinet
ISLAMABAD (Dunya News) – Prime Minister Imran Khan has given approval to the summary prepared by the Ministry of Interior to ban Tehreek-e-Labbaik Pakistan (TLP) on Wednesday.
According to Dunya News sources, the federal cabinet will approve the ban on TLP through a circular summary. This important decision will be made in the next 24 hours.
Meanwhile, speaking exclusively in Dunya News program "Dunya Kamran Khan Kay Sath", Interior Minister Sheikh Rasheed said that everyone is on board on the issue of banning TLP. The decision was made with forethought because these people do not want to backtrack from the politics of sit-in.
Sheikh Rashid said that the issue of ban on TLP has been sent to the federal cabinet at the request of the Punjab government, adding that the ban will be imposed tomorrow or the day after. He said that the cabinet has representation from all four provinces.
To a question, the minister said that he had never been with TLP and had never met Khadim Hussain Rizvi. "I had stopped the Muslim League from making amendments in the assembly," he said.
Earlier today, Sheikh Rashid Ahmed announced that the government has decided to ban Tehreek-e-Labbaik Pakistan (TLP) on request of Punjab government.
He said that two policemen were martyred and 340 personnel sustained injuries due to violent protests while the party's workers also tried to take a number of policemen hostage to force the govt to accept their demands.
The minister said that a detailed summary will be forwarded to the federal cabinet to ban the party.
It merits mention that government has deployed Rangers alongside police personnel as the protest by workers of a religious party has brought to standstill traffic in several major cities and highways; stranding thousands of commuters – women, elderly and children.
A police constable was brutally murdered by workers of the religious party on Tuesday at Shahdara in Lahore in violent clashes that erupted Monday.
Punjab Police-constable Muhammad Afzal, was deputed at the Shahdara police station. Later Tuesday night another constable Ali Imran breathed his last in the Mao Hospital, the police said. He too was beaten by the TLP workers.