Published On 14 April,2021 07:47 pm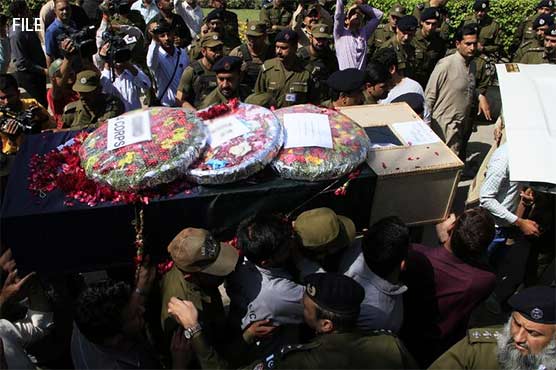 Martyred constable Muhammad Imran laid to rest in Lahore
LAHORE (Dunya News) - The funeral prayers of Constable Muhammad Imran, who was martyred in the violence following protests by a religious party, were offered at Police Lines Qila Gujar Singh on Wednesday.
The funeral was attended by Additional IG Ghulam Mahmood Dogar, DG Rangers Major General Amir Majeed and several senior officers. Constable Mohammad Imran was martyred by violent protesters at Karol Ghati on Tuesday.
Muhammad Imran was a resident of Batapur, he is survived by a widow, two sons and a daughter. CCPO Lahore Ghulam Mahmood Dogar and other officers expressed condolences to the family of the martyr and assured that they will be fully taken care of by the state.
Talking to media on the occasion, CCPO Ghulam Mahmood Dogar said that martyrs are shining examples of upholding national security. The police have always sacrificed their lives to protect the lives and property of citizens, he added.
He said that he was proud to be the head of a force that has made sacrifices for the security of the nation, and whose sacrifices raised the honor of the department manifold.