Charged religious party protesters storm gate of General Hospital Lahore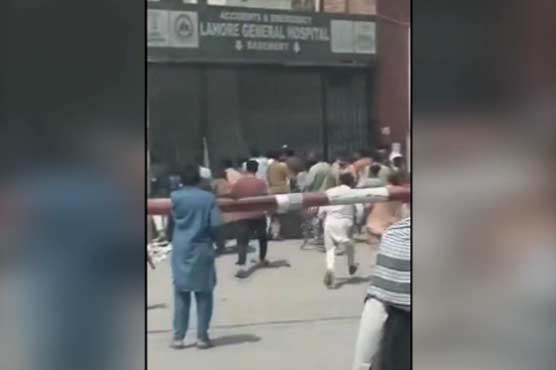 Charged religious party protesters storm gate of General Hospital, Lahore
LAHORE (Dunya News) – Protests of religious party workers continued on Thursday across different areas of Lahore. A group of charged protesters stormed the gate of the General Hospital Emergency and tried to break it open. The angry mob pelted stones at the gate, leaving police and security guards helpless.
According to sources, a policeman was guarding the public near the General Hospital in Lahore when he was severely beaten by religious party workers. The policeman fled for his life and took refuge inside the General Hospital. When the gate of the hospital was closed, angry protesters attacked and started vandalizing it.
For the third day in a row, the traffic system in Lahore and other cities has been severely affected due to these protests. People are facing severe problems due to closure of major roads in Lahore.
However, with the roads in Faisalabad and Rawalpindi now reopened, traffic has been restored while Hub River Road in Baldia Town of Karachi has also been opened for the general public.