Published On 13 April,2021 02:20 pm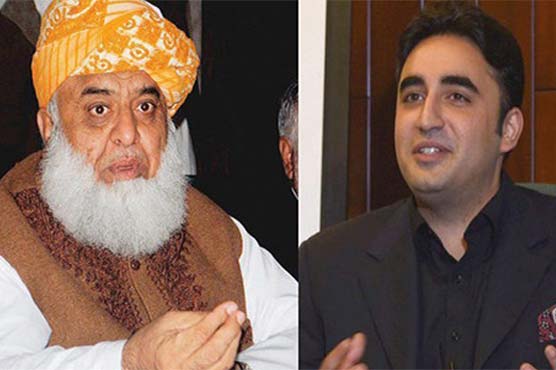 PPP had decided to resign from steering committee of opposition's Pakistan Democratic Movement (PDM)
KARACHI (Dunya News) – Pakistan People's Party (PPP) has dropped resignation of its members from all positions of Pakistan Democratic Movement (PDM) at residence of Maulana Fazl-ur-Rehman.
As per details, after written approval of PPP Chairman Bilawal Bhutto Zardari, Secretary General Nayyar Bukhari delivered the resignations of Sherry Rehman, Raja Pervaiz Ashraf and Qamar Zaman Kaira.
Earlier on Monday, after a meeting of CEC, PPP decided to resign from steering committee of opposition's Pakistan Democratic Movement (PDM).
PPP chairman Bilawal Bhutto Zardari said that in first phase, Raja Pervez Ashraf, Sherry Rehman and Qamar Zaman Kaiwar will tender their resignations.
Opposition alliance was deliberately tried to harm by issuing show cause notice to PPP, he added.
PPP leader said that those who want to resign from the assemblies should go ahead but they should not dictate any other political party. No one is allowed to impose any decision on us, he added.