In show of power, Jahangir Tareen hosts dinner for like-minded PTI members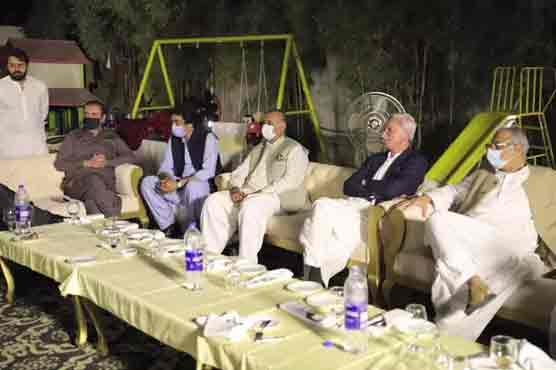 In show of power, Jahangir Tareen hosts dinner for like-minded PTI members
LAHORE (Dunya News) - PTI leader Jahangir Tareen on Friday hosted a dinner in honor of like-minded party members. The dinner was attended by more than 29 members of parliament and leaders of the ruling party.
The leaders in attendance declared that Jahangir Tareen was being treated unjustly and announced that they will stand by him. However, they said that no forward block or pressure group was being formed within the party and they will demand justice from the leadership by remaining in the party.
The PTI leaders lamented the persistent misinformation given to the Prime Minister and said that retaliatory actions based on personal grudges were intolerable and hurtful to the party workers.
According to sources, the leaders present at the dinner said that the presence of unelected individuals was making the situation worse and weakening the party.
Addressing the present members, Jahangir Khan Tareen said that he was still in PTI and that meeting friends and having food was a routine matter.
Among the attendees were Raja Riaz, Ghulam Bibi Bharwana, Provincial Minister Noman Langarial, Sami Gilani, Riaz Mazari, Khawaja Shiraz, Javed Warraich, Ghulam Lali, Ajmal Cheema, Abdul Hai Dasti, Amir Muhammad Khan, Rafaqat Gilani, Faisal Jabwana, Khurram Leghari , Asif Majeed, Bilal Warraich, Omar Aftab Dhillon, Tahir Randhawa, Amin Chaudhry, Ghulam Rasool, Sajjad Warraich, Nazir Chauhan, Zawar Warraich, Mehr Aslam Bharwana, Salman Naeem, Iftikhar Gondal and others.