Published On 21 March,2021 06:40 pm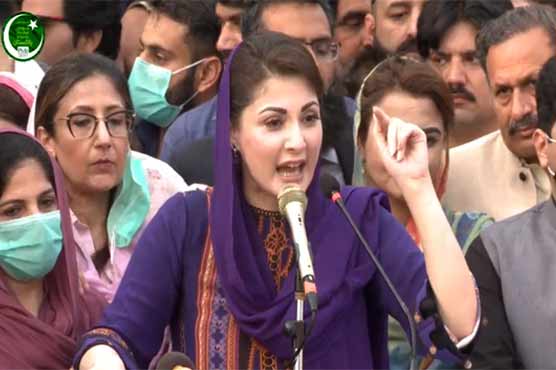 She said that who gave NAB power to judge her statements
LAHORE (Dunya News) – Pakistan Muslim League-Nawaz (PML-N) vice president Maryam Nawaz on Sunday while pointing fingers at the National Accountability Bureau (NAB), said that she was not afraid of imprisonment.
Addressing PML-N Youth Convention in Lahore, she said that she was not speaking against the institutions but was exposing the anti-graft watchdog and she will definitely appear before the Bureau on March 26.
The PML-N vice president said that everyone said PML-N's game was over but we defeated the government in their stronghold, adding that despite being on the same page, the government couldn't win a single by-election.
Maryam Nawaz said the anti-graft agency accused her of speaking against the institutions but who gave them power to judge her statements.
She said: "Time has gone when the NAB would arrest whenever it wanted, adding that the Bureau arrested her when she was with her father, former prime minister Nawaz Sharif. Mian Sahib said you should have waited for Maryam to come out and asked ordered them [NAB] to arrest the daughter in front of the father."
"I have rendered many sacrifices and it is time to take stock of all the sacrifices that she had made," she added.
She went on to say that the PML-N supremo had been ousted over a mere iqama, adding that the vision of her party is to end loadshedding, complete CPEC projects and spread motorways around the country, while the vision of PM Imran Khan is eggs, cows, hens and justifying every step taken against the constitution.
---
Differences with Hamza Shahbaz
---
Earlier, talking to media flanked by Pakistan Democratic Movement (PDM) chairman Moulana Fazlur Rehman, she denied the reports of differences with party leader Hamza Shahbaz said that this propaganda has been going on for the past 30 years.
Speaking about the future of 11-party opposition alliance and said that Pakistan Peoples' Party (PPP) would decide whether it would be part of the alliance or not and she cannot comment on this.
Maryam Nawaz said that the PML-N and Jamiat Ulema-e-Islam-Fazl (JUI-F) have held huge rallies and they don't need any other party, adding that they should truly represent the people.
"We are trying our best to keep all the parties united under the banner of the PDM because the future of Imran Khan s fake government depends on its performance," the PML-N vice president said.
To a question, she went on to say that the PDM had reached a unanimous decision regarding Azam Nazir Tarar, adding that the decision was taken at the Yousuf Raza Gilani's residence.
Maryam Nawaz said: "The decision regarding nomination of Azam Nazir Tarar has already been made and there was no need to review the decision." "I hope other parties will stand by this decision," she added.