PML-N seeks support from PPP in NA-249 by-election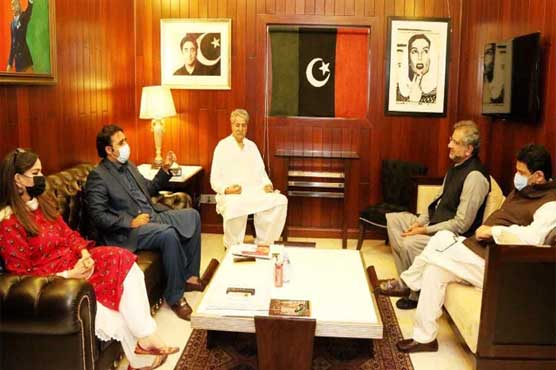 PML-N seeks support from PPP in NA-249 by-election
KARACHI (Dunya News) - Pakistan Muslim League-Nawaz (PML-N) has sought support from Pakistan Peoples Party (PPP) for its candidate in NA-249 by-election.
According to details, PML-N senior vice president and former Prime Minister Shahid Khaqan Abbasi met PPP Chairman Bilawal Bhutto Zardari in Bilawal house Karachi. Sherry Rehman, Naveed Qamar and Muftah Ismail were also present in the meeting.
During the meeting, Bilawal Bhutto Zardari and Shahid Khaqan Abbasi discussed the NA-249 by-election. Shahid Khaqan Abbasi sought support from Bilawal for PML-N candidate in NA-249.
Bilawal Bhutto in his reply to Shahid Khaqan said that he will inform after consultation with the party leaders.