Govt, opposition leaders condemn ink, egg attack on Shahbaz Gill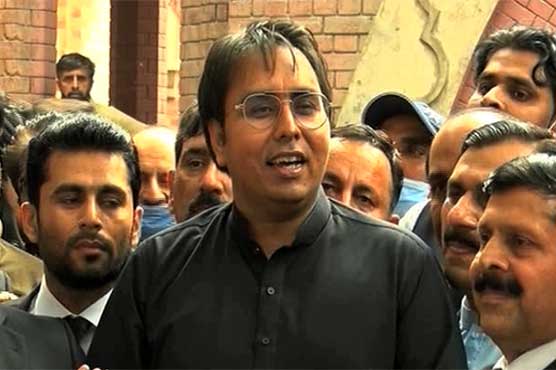 PML-N workers threw ink and eggs at Shahbaz Gill outside Lahore High Court.
LAHORE (Dunya News) – Members of ruling Pakistan Tehreek-e-Insaf (PTI) and leaders of opposition parties have condemned ink and egg attack on Special Assistant to Prime Minister for Political Communication Shahbaz Gill outside Lahore High Court.
Federal Minister for Science and Technology Fawad Chaudhry said that the incident demands more than just condemnation and warned that such incidents will increase hostilities. He further said that opposition cannot hide its wrongdoings with throwing ink on others.
Newly elected Senator Faisal Vawda said that 'grandmother' along with her slaves launched a below the belt attack which is a proof that Shahbaz Gill is always on mind of 'corrupt people'.
On the other hand, Pakistan Muslim League-Nawaz (PML-N) spokesperson Uzma Bukhari condemned the incident and said that her party does not support this kind of politics and such attacks should be discouraged.
She while criticizing the Pakistan Tehreek-e-Insaf (PTI) leadership said that a shoe was thrown at Nawaz Sharif when he was in government, Khawaja Asif was victim of ink attack and Ahsan Iqbal was shot but unfortunately no member of the PTI condemned those attacks.
Sindh Information Minister Nasir Shah, while condemning the incident said that there is no place for such incidents in politics and despite Shahbaz Gill being a political opponent, these attacks cannot be allowed.
However, he criticized PM Imran and said that the political culture which was promoted by him has shown its glimpse today.
It is pertinent to mention here that PML-N workers on Monday threw ink and eggs on Special Assistant to PM for Political Communication Shahbaz Gill outside Lahore High Court.
As per details, the incident occurred when Shahbaz Gill reached the court. Police have increased the security around the high court and arrested the PML-N workers involved in the attack.
Responding to the incident, Shahbaz Gill said that he will not be intimidated by this as Pakistan Tehreek-e-Insaf (PTI) do politics not bullying.
He said that opposition is in panic and resorting to unjustifiable tactics but he will not back down from his principled position no matter what. Tell Maryam Nawaz that I am not afraid of anyone, he said.