Published On 14 March,2021 03:17 pm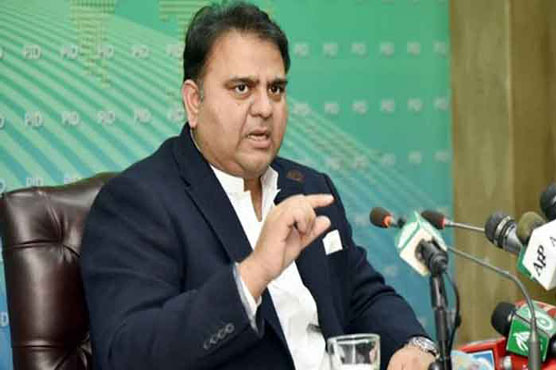 PML-N and PPP both supported open balloting for Senate elections in Charter of Democracy: Shibli
ISLAMABAD (Dunya News) – Federal Minister for Science and Technology Fawad Chaudhry on Sunday said that Pakistan Muslim League-Nawaz (PML-N) supremo Nawaz Sharif and founder of MQM are not political persons and are a gift of politics of 1985.
Talking to media persons along with Federal Minister for Information and Broadcasting Shibli Faraz, Fawad Chaudhry condemned statement of PML-N Javed Latif and termed him a pawn.
The minister said that Nawaz Sharif and MQM founder received similar training and both are not coming back to Pakistan from London. He said anti- Pakistan statements after defeat in an election is condemnable and stressed that people who want to follow footsteps of MQM founder should also take into account his political end.
Fawad Chaudhry said that PML-N and PPP both supported open balloting for Senate elections in Charter of Democracy and urged senior leadership of the both parties to take matters into their hands and cancel the long march that is scheduled for March 26.
He reiterated that there would have been no issues if Senate elections were held through open vote and urged political parties to sit with government for electoral reforms instead of conducting long march.
Speaking on the occasion, Federal Minister for Information and Broadcasting Shibli Faraz on Sunday said that opposition alliance Pakistan Democratic Movement (PDM) has faced defeat at every turn.
Shibli Faraz said that immature politicians of opposition parties have launched a campaign against the government.
The minister lauded government's approach against the pandemic and said that Prime Minister Imran Khan's strategy to tackle coronavirus was a success and despite the pandemic country's economy is growing and business activities are increasing.