PDM to challenge Sadiq Sajrani's win in Chairman Senate election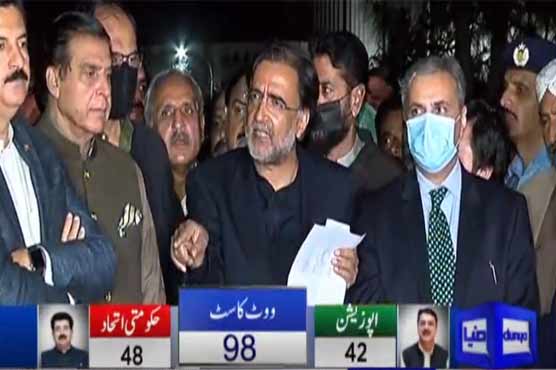 PPP refuses to concede defeat in Chairman Senate election
ISLAMABAD (Dunya News) – Pakistan People's Party (PPP) has refused to acknowledge the defeat of its candidate Yousaf Raza Gillani in the election of Chairman Senate and announced to challenge his loss in the Election Tribunal.
As soon as the presiding officer announced the re-election of Sadiq Sanjrani as Chairman of the Senate, senators on the opposition benches caused uproar against the decision.
PPP leader Farooq H. Naik said that we cannot accept this decision under any circumstances as the ballot paper did not instruct or indicate where the voter should affix the seal.
He refused to accept the seven votes rejected during the election of Chairman of the senate, saying that putting the stamp over the candidate's name does not invalidate the vote.
Meanwhile, Qasim Gilani, son of Yousaf Raza Gillani, while refusing to acknowledge the victory of Sadiq Sanjrani, said that PPP plans to soon approach the election tribunal against this decision.
On the other hand, the PML-N has also refused to acknowledge the defeat of the joint PDM candidate.
A statement issued by PML-N leader Ahsan Iqbal said that Yousaf Raza Gillani won with 49 votes and the government's candidate Sadiq Sanjrani lost with 48 votes. However, seven votes of Yousaf Raza Gillani were rejected to forcibly declare Sanjrani as the victor.