PM Imran will easily win today's match: Moonis Elahi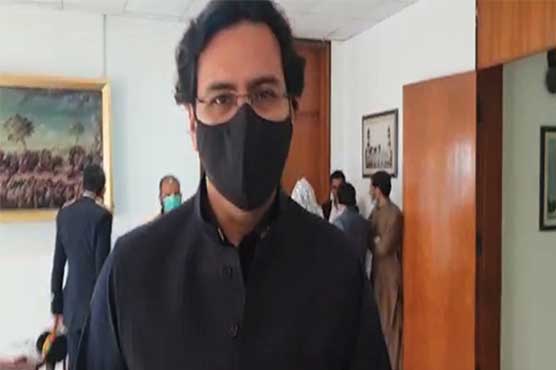 Moonis Elahi said he will give vote of confidence to Imran Khan.
ISLAMABAD (Dunya News) – Pakistan Muslim League-Quaid (PML-Q) Member National Assembly (MNA) Moonis Elahi reached the Parliament House on Saturday and said Prime Minister Imran Khan will easily win today's match.
Moonis Elahi said he will give vote of confidence to the premier. When asked about his absence from the parliamentary party meeting on Friday, the PML-Q leader said voting is the main thing and his party – an ally of Pakistan Tehreek-e-Insaf (PTI) – is present to give vote of confidence.
Let it be known that the 30th session of the National Assembly will begin today during which Prime Minster Imran Khan will seek a vote of confidence from the House.
The ruling coalition has 180 votes in the 340 members National Assembly while the opposition alliance has 160 votes; however, the Prime Minister only need 171 votes.
PTI has 156 members in the National Assembly, while its allies include the MQM-P which has seven seats, the PML-Q and the BAP have five seats each, All Pakistan Muslim League and the Jamhoori Watan Party have one seat each while two independent members are also on the side of the government.
The joint opposition has 160 seats in the National Assembly. There are 83 members from PML-N and 55 from PPP. Muttahida Majlis-e-Amal Pakistan has 15 seats, BNP has 4 seats and ANP has one seat while the opposition also enjoys support of two independent candidates.
However, PDM has announced a complete boycott of today's National Assembly meeting.