Published On 05 March,2021 06:39 pm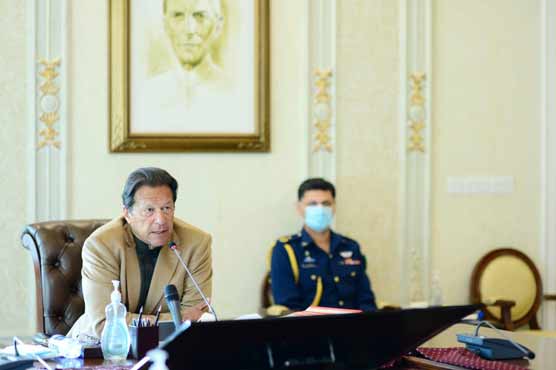 He said those who doesn't trust me, should express openly
ISLAMABAD (Dunya News) – Prime Minister Imran Khan on Friday said that he knows 16 members of ruling Pakistan Tehreek-e-Insaf (PTI) sold their conscience and urged the party members to vote according to their conscience as selling vote for money is dishonesty.
According to sources, the prime minister said this in parliamentary party meeting. The members of PTI and coalition partners attended the meeting.
Imran Khan took all the members in confidence over his decision to seek vote of confidence.
Speaking on the occasion, he said that the member who does not trust me, should express himself openly.
Sources said that the PTI members chanted slogans in favor of the PM while members from Khyber Pakhtunkhwa became emotional on the occasion.
---
PML-Q, MQM express full confidence

---
Earlier, coalition partners of ruling Pakistan Muslim League-Quaid (PML-Q) and Muttahida Qaumi Movement (MQM) on Friday expressed full confidence on Prime Minister Imran Khan and said that they stand by him.
This assurance was given by the delegations of MQM and PML-Q during separate meetings with the prime minister.
In its meeting with Imran Khan, MQM delegation said we have reservations about the existing system of governance but we stand by the PM.
Sources said that the MQM delegation said they are convinced that Imran Khan is neither involved in the corruption not does he like it, adding that we want a change in the system so that we can deliver to the people.
The delegation said, "We have no demands from the PM other than the party should be included in the consultation on Karachi and Sindh, while they want the powers to be transferred to lower levels in the local government system.
PM Imran Khan appreciated the MQM's suggestions and directed that consultation with the MQM be ensured in the affairs of Sindh and Karachi.
On the other hand, PML-Q delegation also held a meeting with PM Imran and expressed full confidence on him.
According to sources, the PML-Q leaders said that they had voted for Abdul Hafeez Shaikh in the Senate elections and will now also vote for the prime minister.
The PML-Q delegation include Tariq Bashir Cheema, Hussain Elahi, Chaudhry Salik and Farah Khan. Prime Minister Imran Khan thanked the PML-Q for its confidence.