Published On 03 March,2021 10:11 am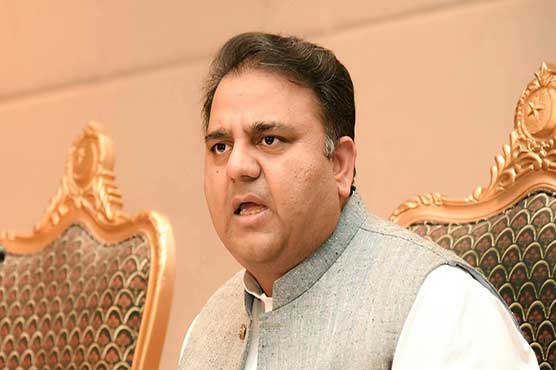 Hafeez Shaikh will receive over 180 votes: Fawad Chaudhry
ISLAMABAD (Dunya News) - Federal Minister for Science and Technology Fawad Chaudhry has claimed that Pakistan Tehreek-e-Insaf (PTI) will easily win Senate elections and will emerge as largest party in the upper house of the parliament.
Fawad Chaudhry, in a tweet, also claimed that PTI candidate from Islamabad Hafeez Shaikh will secure his victory by receiving more than 180 votes while opposition alliance's candidate will only get 155 votes.
Meanwhile, Interior Minister while exclusively talking to Dunya News, said that he will vote for Prime Minister Imran Khan's candidate and expressed hope that Hafeez Shaikh will win from Islamabad.
On the other hand, Federal Minister Faisal Vawda claimed that Yousaf Raza Gilani will face defeat and PPP will sacrifice some other senator to elect Gilani to Senate later.
Minister for Communications Murad Saeed has said that leaked video of Ali Raza Gillani has exposed the covert agenda of the opposition that is based on protecting their personal interests at the cost of violating law and exploiting people.
Addressing media at Parliament House Islamabad, he said the incident also shows that they can go to any extent for accumulation of illegal money and horse-trading.
The Minister said after the video of Ali Raza Gillani, Yousuf Raza Gillani has no moral grounds for contesting the elections.
He said our leader Prime Minister Imran Khan has always propagated transparency in the system throughout his 22-year long struggle and we are committed to implement his vision. He said transparency in the system is the only way forward to put the country on the right track.
It is pertinent to mention here that voting for high-stakes elections of the Senate is underway through secret ballot in Parliament House and provincial assemblies of Sindh, Balochistan and Khyber Pakhtunkhwa.
The lawmakers are voting for 37 vacant seats of the Senate as 11 Senators from the Punjab have been elected unopposed.
Two senators will be elected from the federal capital, eleven from Sindh and twelve each from Balochistan and Khyber Pakhtunkhwa.
In the federal capital, Abdul Hafeez Sheikh of Pakistan Tehreek-e-Insaf (PTI) and Syed Yousaf Raza Gilani of Pakistan People's Party (PPP) are vying for the general seat whilst for the women seat, Fauzia Arshad of PTI and Farzana Kausar of PML-N are in the field.
Twenty five candidates are in the field for twelve seats of Senate from Khyber Pakhtunkhwa, twenty six from Balochistan and seventeen from Sindh province.
It merits a mention here that fifty-two senators in the house of 100 are set to retire on 11th of this month after completion of their six-year term.