SC's opinion on presidential reference regarding Senate polls is historic: PTI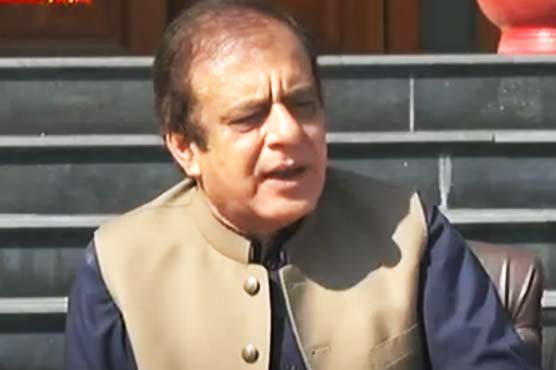 The court has also ruled that secrecy of ballot is not permanent: Shibli
PESHAWAR (Dunya News) – Information Minister Shibli Faraz on Monday has said the Supreme Court's opinion on presidential reference is historic under which the Senate elections will be held as per Article 226 of the Constitution.

Talking to the media persons in Peshawar, the minister said the apex court has directed the Election Commission of Pakistan (ECP) to use the latest technology and take the necessary steps to ensure transparency in the polls.

He said the court has also ruled that secrecy of ballot is not permanent.
The information minister asked the ECP to take requisite steps for ensuring transparency in the Senate elections in the light of the SC decision.
Meanwhile, Federal Minister for Science and Technology Fawad Chaudhry said that SC has adopted the stance of eliminating corrupt practices and horse-trading in the Senate polls.

In a post on social-networking website Twitter, Fawad Chaudhry said that the apex court has not accepted complete secrecy of the ballot in the Senate elections and directed ECP to ensure transparent polls through traceable ballot.
On the other hand, Chairman Senate Standing Committee on Information and Broadcasting Faisal Javed has termed the SC's opinion as a 'victory for Pakistan'.
Talking to media, the PTI leader said, "The attorney general's team worked hard and great arguments were recorded. Such a detailed discussion on the Senate has not happened before." The honorable court said secrecy is not absolute. That means it cannot stay [this way] till the Day of Judgement, he added.
Faisal Javed said that the court has instructed the ECP to work on ensuring proportional representation in the polls.
The reactions came after SC, in its opinion on the presidential reference on open Senate vote, said that the elections in the upper house of the Parliament will be held through secret ballot under the article 226 of the Constitution of Pakistan.
The apex court has directed Election Commission of Pakistan (ECP) to use latest technologies to stop corrupt practices and all institutions should assist ECP in holding the elections.
It is to be mentioned here that a total of 170 candidates had filed their nomination papers in the ECP for the polls on 48 seats in the upper house of the Parliament. 29 candidates from Punjab, 39 from Sindh, 51 from Khyber Pakhtunkhwa (KP), 41 from Balochistan and 10 from the federal capital Islamabad had submitted their details.
Polling for Senate elections will be held on March 3 at the Parliament house in Islamabad and the four provincial assemblies.