Published On 23 February,2021 07:43 pm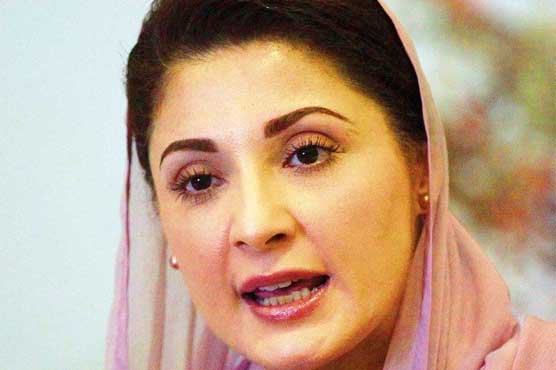 She said results were changed in the presence of leading members of the ruling PTI.
LAHORE (Dunya News) – Pakistan Muslim League-Nawaz (PML-N) vice president Maryam Nawaz on Tuesday asked the government to reveal whole truth or that she would tell the truth behind rigging in NA-75 Daska by-elections.
Maryam Nawaz took to the twitter and claimed that she has the names of two people, adding that it was not just a fraud but a well-organized operation that was managed at a high level.
The PML-N vice president said that the staff of the Election Commission was abducted and kept in one place all night. The results were changed in the presence of leading members of the ruling Pakistan Tehreek-e-Insaf (PTI).
Earlier, the PML-N vice president while reacting to the decision of election tribunal disqualifying party leader Pervaiz Rasheed from contesting upcoming senate polls, said that PML-N leader Pervaiz Rasheed is not the name of an individual, but of a thought, an ideology and a bright symbol of democracy.
"He was and will continue to be an asset of national politics," she said calling him a trusted ally of Former Prime Minister Nawaz Sharif and valiant soldier of democracy.
Earlier today, Lahore High Court's (LHC) Election Tribunal upheld the decision of returning officer and disqualified Pakistan Muslim League-Nawaz (PML-N) candidate Pervaiz Rashid from participating in the Senate polls.
While announcing the verdict, LHC judge justice Shahid Waheed has rejected the appeal of PML-N leader.
During the proceedings, Pervaiz Rashid said that he was ready to pay due amount to eliminate the objections raised by the Election Commission of Pakistan (ECP).
Meanwhile, the ECP conducted hearing on a case pertaining to the by-elections in National Assembly (NA) constituency NA-75 Daska.
During the proceedings, Pakistan Tehreek-e-Insaf (PTI) candidate Ali Asjad Malhi appeared before the panel and assured to accept the decision of the commission.
Chief Election Commissioner (CEC) Sikandar Sultan Raja said re-polling can be held in the constituency if the commission finds that the elections were not conducted in a fair way.
Meanwhile, the returning officer told that there is no difference in the results of polling stations 50, 47, 9 and 140. Four out of 20 suspicious polling stations are clear, however, the results of three polling stations were received on Watsapp with a delay, he told.
Subsequently, Sikandar Sultan Raja, while seeking complete record from PTI authorities till February 24, has assured to hold transparent trial of the case.
It is to be mentioned here that the returning officer in NA-75 Daska had withheld the by-polls results in NA-75 Daska due to violence and alleged vote fraud. The results will now be announced by the ECP after proper inquiry.
According to the unofficial results of 337 polling stations, Pakistan Muslim League-Nawaz (PML-N) candidate Nosheen Iftikhar (97,588 votes) was leading Pakistan Tehreek-e-Insaf's (PTI) Ali Asjad Malhi (94,541 votes). However, results of 23 polling stations were delayed.
The returning officer had expressed doubts over the results of 20 polling stations in the preliminary report.
While responding to the move, PML-N vice president Maryam Nawaz had demanded re-election in NA-75 constituency in Daska and said that after stealing flour, sugar, electricity and vote, the entire polling officials were also whisked away. "The polling officials had no answer when they were asked where they were at the time of violence," she said.
Maryam Nawaz said that the people of Daska defeated those who tried to steal the votes.
Later, Prime Minister Imran Khan had advised PTI candidate to ask ECP for re-poll in 20 polling stations of NA-75 Daska, by-elections and said that we have always struggled for fair and free elections.
He said opposition is crying hoarse over in the Daska NA-75 by-election adding that we are seeking open ballot for Senate elections because we want transparency.