Special envoy of Qatar, Interior Minister discuss bilateral relations, Afghan peace process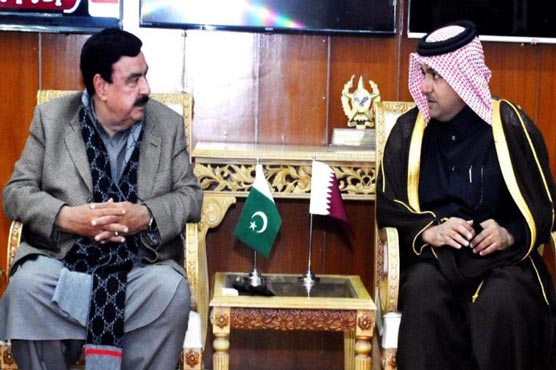 Special envoy of Qatar, Interior Minister discuss bilateral relations, Afghan peace process
ISLAMABAD (Dunya News) - Special envoy of Qatar Mutlaq bin Majed Al-Qahtani called on Interior Minister Sheikh Rasheed Ahmad in Islamabad today (Monday).
Matters related to bilateral relations and Afghan peace process came under discussion. Sheikh Rasheed Ahmad said lasting peace in Afghanistan is a long standing dream of Pakistan.
Commending the efforts of Qatar for peace in Afghanistan, he stressed on to continue dialogue with the Afghan Taliban for maintaining peace.
Speaking on the occasion, Mutlaq bin Majed Al-Qahtani said Peace in Afghanistan is essential for the social and economic development of the region.
He lauded Pakistan s civil and military institutions for their countless sacrifices in establishing peace.