Maryam Nawaz demands re-election in NA-75 Daska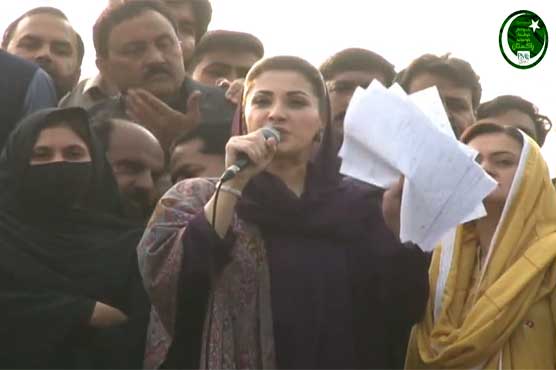 Maryam Nawaz said that the people of Daska defeated those who tried steal votes
DASKA (Dunya News) – Pakistan Muslim League-Nawaz (PML-N) vice president Maryam Nawaz on Sunday demanded re-election in NA-75 constituency in Daska.
Addressing a rally in Daska on Sunday, she said that after stealing flour, sugar, electricity and vote, the entire polling officials were also whisked away. "The polling officials had no answer when they were asked where they were," she said.
The PML-N vice president said that the army of spokespersons used the fog as an excuse, adding that some presiding officers are absent for over 14 hours.
Maryam Nawaz said that the people of Daska defeated those who tried steal votes, adding that they had an eye on Daska. "We have defeated them [govt] in their stronghold in Nowshera," Maryam added.
Talking to media persons in Jati Umra, the PML-N vice president Maryam Nawaz said that Pakistan Tehreek-e-Insaf (PTI) lost by-election in NA-75 Daska despite state terrorism.
She said that people of Daska fought for the democracy despite rigging in the elections and rejected sugar, gas and flour thieves.
Talking about alleged disappearance of presiding officers some polling stations, the PML-N leader said "They talk about fog, was fog only in these 23 areas?"
Maryam Nawaz said that the entire nation now knows how the PTI government came to power. "I want to thank the PM for showing his reality to the public."
She said that the chaos in Daska has proven that Imran Khan rigged the 2018 General Elections.
"If we knew PTI will resort to killing people for votes, we would have given our seats to them."
She added that after this incident, people across Pakistan have rejected the PM and his government.
PML-N has accused the ruling PTI of attempting to rig the by-polls in Sialkot's NA-75 after which the results were withheld by the ECP.
On the other hand, the Election Commission of Pakistan has directed the returning officer of Daska to conduct a complete inquiry over the issue of NA-75 by-poll election results.
Sources said that the Election Commission will decide whether to release the result of the constituency after a thorough inquiry. The Election Commission will take a final decision after a detailed report of the Returning Officer and will review the report in a meeting on Tuesday.
The Returning Officer expressed doubts over the results of 20 polling stations in the preliminary report. He also expressed reservations over the role of police and administration in the initial report, said sources.