Senate Elections: Jahangir Tareen swings in action for Hafeez Shaikh's support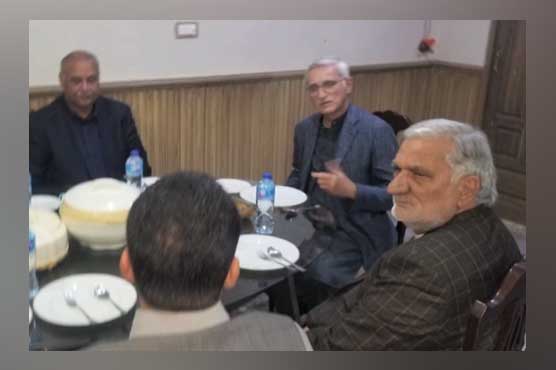 Jahangir Tareen meets Raja Riaz, Nawab Sher Waseer and Khurram Shahzad during Faisalabad visit
FAISALABAD (Dunya News) – With Upper House of the Parliament elections just around the corner, Pakistan Tehreek-e-Insaf (PTI) leader Jahangir Tareen has swung into action to support party candidate from Islamabad and Finance Minister Abdul Hafeez Shaikh.
The PTI leader boarded his charter plane and reached Faisalabad on an important visit where party leader and Member National Assembly (MNA) Raja Riaz welcomed his.
Tareen also visited residence of Nawab Sher Waseer.
Sources said that the PTI leader requested Raja Riaz to support Abdul Hafeez Sheikh in the Senate elections as he is his friend.
Jahangir Tareen also met PTI MNA Khurram Shahzad and congratulated him on his daughter's wedding, which is scheduled for February 25.
He also had a telephone conversation with Dr Abdul Hafeez Sheikh.