Haleem Adil Sheikh arrested, taken to police station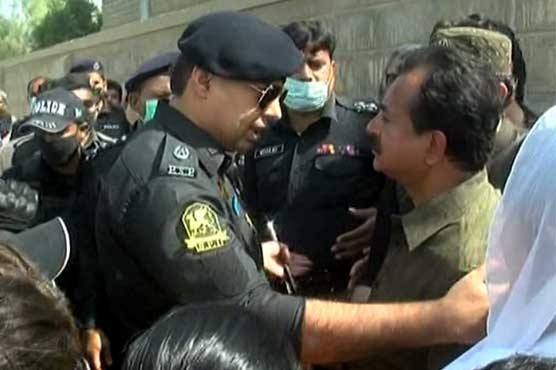 PTI leader Haleem Adil Sheikh arrested, taken to police station
KARACHI (Dunya News) – Karachi Police have arrested PTI leader Haleem Adil Sheikh and detained him in the police station while senior officers are being consulted for registration of a case against him.
According to sources, Haleem Adil Sheikh has two cases previously registered against him while more will be filed for disturbing the peace and voting process in today's by-election. He was previously in police custody and has now been arrested.
Police officials said that Haleem Adil Sheikh has two cases against him in Memon Goth and Gadap police stations. The cases were registered on February 6 for disrupting Sindh government's anti-encroachment operation.
Earlier, Haleem Adil Sheikh was shifted to SSP Malir's office, but PTI workers forcibly opened the gate and stormed inside. Police were able to push the party workers back out again.
It should be noted that voting for by-elections in PS-88 was underway and at least 108 polling stations were set up in the constituency, out of which 36 had been declared sensitive and 33 were declared most sensitive.