Published On 09 February,2021 07:24 pm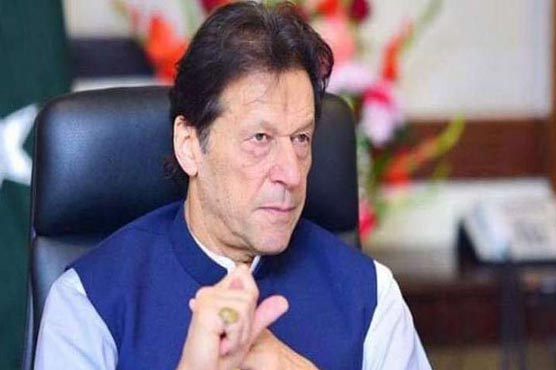 Video shows shameful way politicians buy, sell votes in Senate elections: PM
ISLAMABAD (Dunya News) - Prime Minister Imran Khan has said that the videos showing the shameful way in which politicians buy and sell votes in Senate reflects the total destruction of the nation s morality by successive ruling elites as they drowned the nation in debt.
According to details, in a series of tweets PM Imran said that cycle of corruption and money laundering is a sordid tale of our political elite.
He said that they spend money to come into power and then use political power to make money to purchase bureaucrats, media and other decision makers to consolidate their power and rob nation s wealth adding that then they launder looted money into offshore accounts and to purchase foreign assets and palatial residences abroad.
He said that this is what the PDM cabal wants to now protect by supporting a corruption friendly system. We are determined to stop this cycle of corruption and money laundering that is debilitating the nation, he added.
— Imran Khan (@ImranKhanPTI) February 9, 2021
---
KP Law Minister resigns over allegations of selling vote

---
Khyber Pakhtunkhwa Law Minister Sultan Mohammad resigned from his post over the allegations of selling vote in the 2018 Senate elections.
Earlier Prime Minister Imran Khan decided to take resignation from Law Minister of Khyber Pakhtunkhwa for selling vote in the 2018 Senate elections.
It may be recalled that a video of provincial law minister Sultan Mohammad taking money in exchange for votes in the 2018 Senate elections emerged. Sultan Muhammad was a member of Qaumi Watan Party in 2018.
Prime Minister Imran Khan while issuing orders to the Chief Minister of Khyber Pakhtunkhwa on the issue has demanded a detailed report.
This was confirmed by Special Assistant to the Prime Minister Dr Shahbaz Gill through a tweet.
He said that Prime Minister Imran Khan, while deciding to take resignation from the Law Minister of Khyber Pakhtunkhwa, gave orders to Chief Minister Mahmood Khan in this regard adding that a detailed inquiry will be conducted and a report will be submitted.
---
Video of horse-trading during Senate 2018 elections emerges

---
On the other hand a video of horse-trading during Senate elections in 2018 by some provincial lawmakers has emerged.
The lawmakers can be seen counting bundles of notes and putting them inside a bag in the video.
The video obtained by Dunya News showes that lawmakers of Pakistan Tehreek-e-Insaf (PTI) sold their votes during last Senate elections.
Federal Minister Fawad Chaudhry, while exclusively talking to Dunya News has said that selling votes for financial benefits is very shameful and urged Supreme Court of Pakistan (SCP) to take suo moto notice of the incident.
Special Assistant to Prime Minister (SAPM) on Political Communication Shahbaz Gill has said that PM Imran Khan has been raising the issue for past 25 years as he is strictly against horse-trading in elections.
It is to be noted here that the Pakistan Tehreek-e-Insaf (PTI) had expelled its lawmakers for "selling their votes" in Senate elections. Imran Khan had said that 20 of PTI MPAs had received Rs40 million each for selling their loyalties in the Senate election.
PTI government, in order to conduct Senate elections by open ballot in 2021, has approached the apex court under Article 186.
The top court's guidance has been sought in the presidential reference in order to amend Section 122 (6) of the Election Act, 2017 without amending the constitution.