Published On 05 February,2021 04:33 pm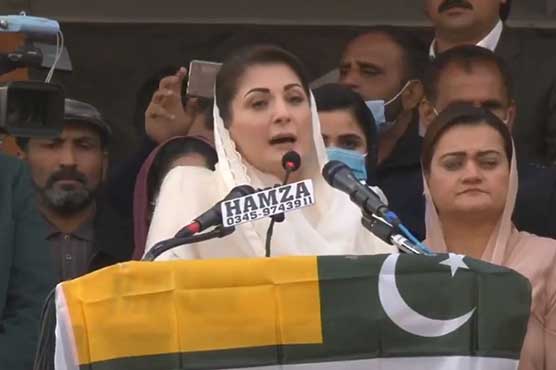 Entire nation united on Kashmir issue: Maryam Nawaz
MUZAFFARABAD (Dunya News) - Pakistan Muslim League Vice President Maryam Nawaz said Friday that despite political differences, the entire nation stands united when it comes to national interests and the Kashmir issue.
Addressing a meeting of the Pakistan Democratic Movement (PDM) on the occasion of Kashmir Solidarity Day, the PML-N vice-president extended her father's message, expressing love for the people of occupied and Azad Kashmir.
"There may be political differences, but when it comes to national interests, the Pakistani nation is united," she said.
Maryam Nawaz said that we salute the perseverance and courage of Kashmiri people in the face of Indian atrocities.
She also hurled criticism at Prime Minister Imran khan, saying that he had sold off Kashmir to India.
Maryam Nawaz said that Kashmiri people are also united in asking for Imran Khan's ouster. She alleged that Azad Kashmir police had been instructed not to let any opposition party worker take part in today's PTI rally.
She said that it has been directed that only PTI workers should be seated in the first 23 rows as the fake Prime Minister was afraid that the general public would hold him to account.