Published On 01 February,2021 03:32 pm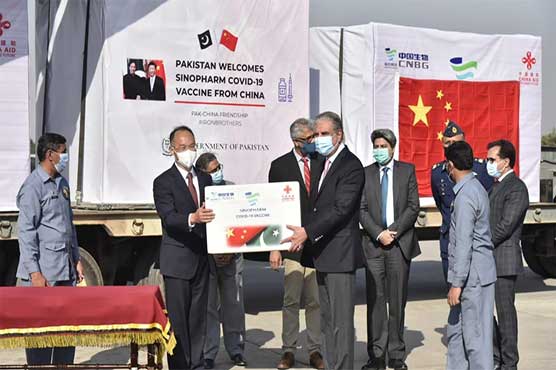 The ceremony was held at the Noor Khan Airbase.
ISLAMABAD (Dunya News) – The Chinese ambassador Monday formally handed over the Covid-19 vaccine to Foreign Minister Shah Mahmood Qureshi at the Noor Khan Airbase as the doses reached Pakistan from China.
Speaking on the occasion, Shah Mahmood Qureshi said Beijing practically gave proof of its everlasting friendship with Islamabad, and a new chapter of companionship between both countries will be written.
The foreign minister said China donated five hundred thousand vaccine doses to Pakistan and is supporting us in steps to counter the pandemic. The Chinese ambassador said that Pakistan is first country to which China has donated vaccines.
A special Pakistan Air Force (PAF) plane with the first batch of Covid-19 vaccine doses reached Islamabad today. The National Command and Operation Center (NCOC), which oversees Pakistan's coronavirus response, had sent the special aircraft to bring the vaccine that Beijing had promised to provide.
The NCOC has taken necessary steps to store the vaccine in Islamabad and onward supply to various federating units particularly to Sindh and Balochistan through the air.