Published On 21 January,2021 07:51 pm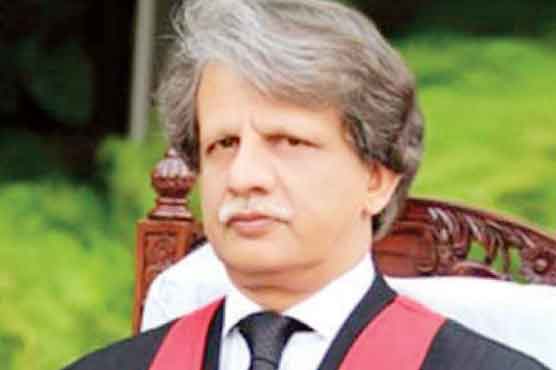 Justice Sheikh Azmat Saeed served as Supreme Court judge for seven years
ISLAMABAD (Dunya News) – Federal government on Thursday appointed Justice (r) Azmat Saeed Sheikh as head of the Broadsheet inquiry committee.
Justice Sheikh Azmat Saeed served as Supreme Court judge for seven years and was part of the bench which handled numerous high profile cases including Panama case.
Justice Azmat was sworn in as SC judge on 01 June 2012. He was administered the oath by the then Chief Justice of Pakistan Justice Iftikhar Muhammad Chaudhry.
Justice Saeed was first enrolled as an advocate of the Lahore High Court (LHC) in 1981 and was subsequently promoted to advocate of the Supreme Court of Pakistan. Justice Saeed also served as special prosecutor of the Ehtesab Bureau in 1997 and was a member of the legal team prosecuting many high-profile cases at the LHC.
He served as special prosecutor National Accountability Bureau in 2001. Justice Saeed was appointed as an additional Judge of the LHC in 2004. In 2012, he was elevated as Judge of the Supreme Court of Pakistan.
Earlier today, Minister for Information and Broadcasting Senator Shibli Faraz said that the Broadsheet case has once again exposed the corrupt elements.
In a tweet, he said that this case was a reminder of how the national interest was compromised for personal gain.
Those who ruthlessly plundered the national wealth must be held accountable, he said. Shibli Faraz remarked that if in the past, these corrupt elements were not given NRO, the country would not have suffered so much.
It is pertinent here to mention that the arbitration documents of the foreign asset recovery firm Broadsheet and the statements made by the company s Chief Executive Officer (CEO) Kave Mousavi had exposed another controversy. The government and the opposition party PML-N are blaming each other.
The documents prepared by Broadsheet show how the company was tasked by the Musharraf government and the NAB to gather information on the Sharif family s corruption and meetings of the company s CEO Kave Mousavi with various personalities.
---
Live Broadcast
---
On Wednesday, Prime Minister Imran Khan said that foreign funding case must be opened and challenged to broadcast case proceedings live on television.
He said that the foreign funding case should be heard in the presence of party leaders.
He said that political fundraising was done only by the ruling Pakistan Tehreek-e-Insaf (PTI), while the country is run on the remittances sent by overseas Pakistanis.
Imran Khan said that Shaukat Khanum s funding came from overseas Pakistanis. "These (opposition) parties and I know what foreign funding is. A number of countries gave funds to these parties. I cannot name those countries because of the relations."
The prime minister went on to say that he was grateful to the opposition for raising the issue of foreign funding, adding that everything should come clean that from where the PTI and opposition parties get their funding.
"Political parties all over the world get foreign funding," the PM said and asked the opposition parties to tell where they raised money from. "Overseas Pakistan is not foreign funding, the whole nation will know who raised money properly in this country."