Foreign funding case pending in ECP for 6 years: Fazlur Rehman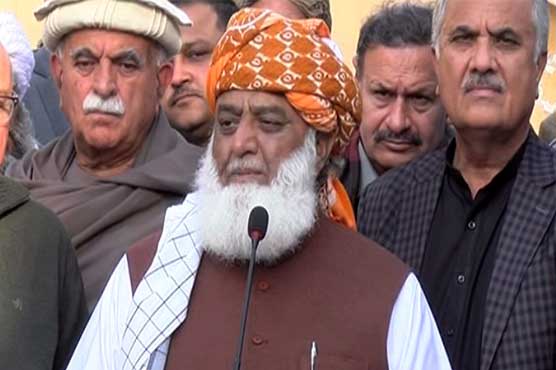 Protests of PDM are according to the constitution of the country: JUI-F Chief
ISLAMABAD (Dunya News) – Head of Pakistan Democratic Movement (PDM) Maulana Fazl-ur-Rehman has said that case regarding foreign funding of Pakistan Tehreek-e-Insaf (PTI) is pending in Election Commission of Pakistan (ECP) from last six years.
Talking to media persons, JUI-F chief said that protest of the opposition alliance is according to the constitution of the country. Everyone knows power of this government and if it had placed any containers to create hurdles in the rally, protestors would have thrown them away, he added.
He further said that PTI hid bank accounts and secret documents and is now delaying the case with filing new pleas. Our morale is high and it is increasing steadily, he added.
On the other hand, Spokesperson of PDM Mian Iftikhar Ahmed said that the meeting of opposition alliance had discussed strategy of protest outside ECP.
He rebuffed reports of differences in PDM and said that the alliance is united until government is sent packing. He also appreciated government's move to allow the protest.
The ANP leader said that opposition is not adopting any unconstitutional methods but PDM will increase the pressure on the government to the extent that it will be forced to announce new elections.