Published On 06 January,2021 11:56 pm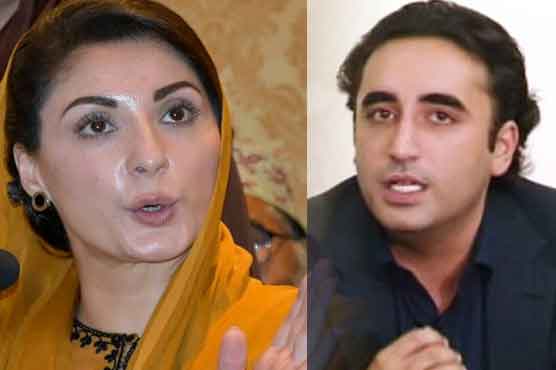 Machh tragedy: Maryam, Bilawal visit Quetta today to meet families of martyrs
QUETTA (Dunya News) - Pakistan Peoples Party (PPP) Chairman Bilawal Bhutto Zardari and Pakistan Muslim League-Nawaz (PML-N) Vice President Maryam Nawaz will visit Quetta on Thursday to express solidarity with the families of the martyrs of Hazara community.
According to details, PML-N Vice President Maryam Nawaz will visit Quetta on Thursday, during which she will meet the families of martyrs of the Hazara community and also express her condolences.
PML-N Vice President Maryam Nawaz will be accompanied by Party Secretary General Ahsan Iqbal, Senator Pervaiz Rasheed, Engineer Khurram Dastgir, Rana Sanaullah, Captain Safdar, Maryam Aurangzeb and former Sindh Governor Muhammad Zubair.
League spokesperson Maryam Aurangzeb said in her statement that the delegation accompanying Maryam Nawaz Sharif will offer condolences to the affected families on behalf of former Prime Minister Nawaz Sharif and party president Shehbaz Sharif.
Meanwhile, according to the PPP spokesperson, Bilawal Bhutto will attend sit-in of the Hazara community on the Western Bypass and offer condolences to the heirs of the victims of the Machh tragedy.
Sources in Bilawal House said that along with Chairman Bilawal Bhutto Zardari, the PPP delegation will also include Sindh Chief Minister Syed Murad Ali Shah and members of the Sindh Cabinet.
Earlier Maryam Nawaz appealed the families of miners, who were slain in a terrorist attack in Machh, to bury their loved ones so their souls could find peace.
The PML-N vice president took to the twitter and wrote, "My mothers and sisters! Brutal murder of your loved ones is not a trivial tragedy and the whole nation is with you in your grief. I and my father are also sad but do not wait for an insensitive and hard hearted man who is not answerable to you or the people."