Published On 15 December,2020 05:43 am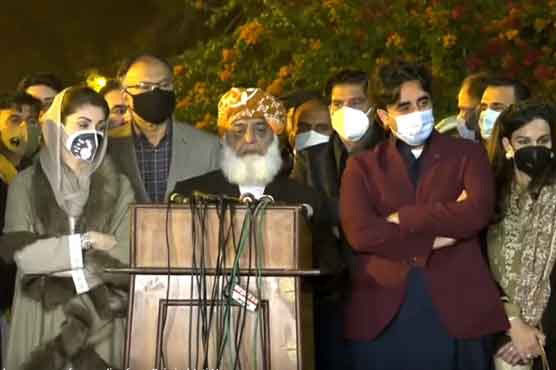 Bilawal said that the country was suffering because of the fake and incompetent government.
LAHORE (Dunya News) – Pakistan People s Party (PPP) chairman Bilawal Bhutto Zardari on Monday ruled out any dialogue with the PTI-led government and said that now it is time long march and Prime Minister Imran Khan's resignation, Dunya News reported.
He said this while talking to media in Lahore after the meeting of leadership Pakistan Democratic Movement (PDM) in Lahore. Pakistan Muslim League-Nawaz (PML-N) vice present Maryam Nawaz and JUI chief Maulana Fazlur Rehman was also present during the media talk.
Bilawal Bhutto said that the country was suffering because of the fake, incompetent and illegitimate government. "People of Pakistan have nothing but curses in their hearts and on their lips," he said.
---
- Everything rests in the hands of the public now: Maryam Nawaz -
---
During the media talk, a journalist asked Maryam Nawaz if she was ready for talks with the government. Responding to this, she said that everything rests in the hands of the public now, the selectors or the selected no longer matter.
Talking about Sunday s Lahore rally, PML-N Vice President Maryam Nawaz Sharif said that the govt is running for cover after seeing PDM's successful rally and the ocean of supporters.
Maryam Nawaz said that she has never seen such a rally in her entire life, there were no chairs left and despite the harsh weather, people stayed and attended the rally. "I was amazed to see so much enthusiasm of the people", she said.
Maryam also said that some TV channels spread false and fabricated news regarding her displeasure with Sunday's showing; the party's MPs worked day and night to make the Lahore rally a success, for which I saluted their efforts, she clarified.
---
- Fazl directs PDM workers to start preparations for long march -
---
PDM head Maulana Fazlur Rehman has directed all workers of the Pakistan Democratic Movement to start preparations for the long march and has given an ultimatum to the government to resign by January 31.
Briefing the media after Monday's meeting between PDM leadership, Maulana Fazlur Rehman said that the government is trying to make the country's media its slave but we will thwart this effort together. He also accused the government of pressurizing media to stop coverage of the rally, saying that he strongly condemns the deplorable role the rulers played yesterday.
Maulana Fazlur Rehman said that all PDM leaders have signed the detailed declaration. There was ambiguity on some issues, which had to be removed. By December 31, PDM members of the National and Provincial Assemblies will submit their resignations to their party leaders, he added.
He said that the steering committee has given a schedule to the provinces to prepare for the long march. "Today I want to make it clear to the government that it should resign by January 31", he said.