PPP workers stage protest against alleged rigging in GB polls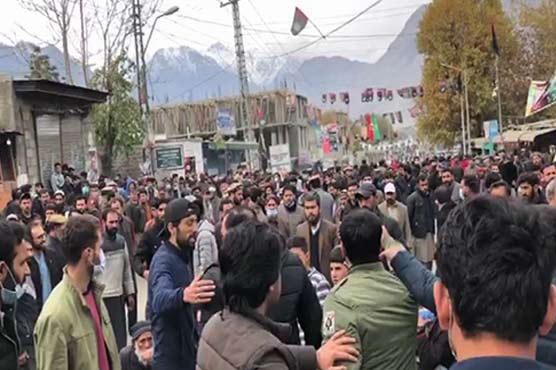 PPP workers stage protest against alleged rigging in GB polls
GILGIT BALTISTAN (Dunya News) – Pakistan Peoples Party (PPP) workers on Tuesday have staged protest outside Deputy Commissioner's office over alleged rigging in Gilgit-Baltistan general elections.

According to details, the counting of postal ballets in GBLA-2 constituency, in which Pakistan Tehreek-e-Insaf's (PTI) candidate Fatahullah Khan was competing PPP's Jameel Ahmed, is underway.
Earlier, PPP chairman Bilawal Bhutto Zardari said that the rights of the people have been robbed by stealing the mandate. He said that the candidates were pressurised for joining the ruling PTI, adding that the polls were rigged.
"The protection of your vote was the job of the Election Commission," he said adding that the Chief Election Commissioner (CEC) targeted the opposition. "Our candidate lost by two votes. They are trying to steal three seats but we will not let them."
The PPP chairman said that Gilgit-Baltistan cannot be handed over to puppets and selected, adding that the puppets had no idea that they would win the election.
"We will continue election campaign and protest and his party would march towards Islamabad if justice is not delivered," he added.
It is to be mentioned here that PTI had won the most seats in the Gilgit-Baltistan Legislative Assembly elections but failed to win an outright majority.

According to unofficial/unconfirmed results, PTI secured nine seats while PPP got four seats, PML-N grabbed two seats, MWM secured one seat and independent candidates have secured seven seats in the GBLA elections held on November 15.

There were 24 seats for the contest but polling on one seat was postponed, leaving 23 seats up for grabs. As many as 330 candidates, including four women, were in the contest.

Elections had been delayed in GBLA-3 following the death of PTI Gilgit-Baltistan President retired Justice Jaffer Shah from coronavirus.