Gilgit-Baltistan Election 2020 results: Reactions of PTI leaders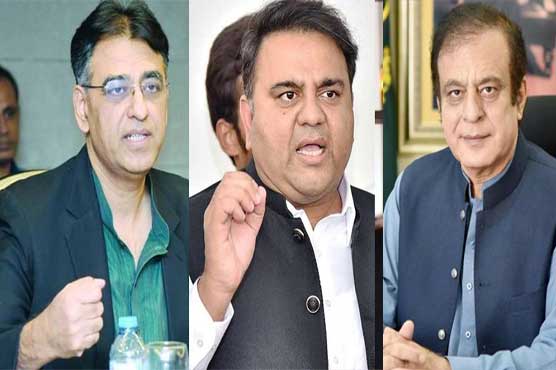 Gilgit-Baltistan Election 2020 results: Reactions of PTI leaders
ISLAMABAD (Dunya News) - Results for the general elections of Gilgit-Baltistan Legislative Assembly (GBLA) have started pouring in as counting is underway across the region after a daylong polling in the landmark general elections held under tight security.
According to the unofficial results it seems that PTI is leading in the GB elections so far. To celebrate victory and to criticize opposition parties and Pakistan Democratic Movement (PDM), PTI leaders took to the social media.
Pakistan Tehreek-e-Insaf (PTI) leader Asad Umar in his tweet said "Young Volunteers Needed .. Volunteers are needed to wrap PDM s belongings after the worst defeat in GB, and bury their statement".
— Asad Umar (@Asad_Umar) November 15, 2020
On the other hand PTI leader and federal Minister for Science and Technology Fawad Chaudhry has said that according to media reports, PTI is winning the GB elections. Hopefully, today s shocking defeat will make the PDM leadership realize how angry the people are with their statement and instead of adopting a frivolous statement of rigging, they should consider a change in their politics and leadership
— Ch Fawad Hussain (@fawadchaudhry) November 15, 2020
Dr Shahbaz Gill in his tweet said that Pakistan and Imran khan has been respected while Maryam, Mian Proud, and anti-Pakistan narrative rejected by the people of Gilgit-Baltistan.
— Dr. Shahbaz GiLL (@SHABAZGIL) November 15, 2020
Federal Minister Shibli Faraz has congratulated people of Gilgit-Baltistan and said that the polling process was completed in a peaceful and cheerful manner. The full participation of the people including elders and women and transparency in the election process was shown by the media through the eyes of their cameras. He said that the media and the people of Gilgit-Baltistan have rejected the expected rigging statement of the opposition.
— Senator Shibli Faraz (@shiblifaraz) November 15, 2020
Special Assistant to the Prime Minister on Youth Affairs Usman Dar has thanked the people of Gilgit-Baltistan for casting vote to the Pakistan Tehreek-e-Insaf (PTI) candidates in the general election.
The PTI was going to form the government in GB and it was committed to resolve the issues being facing by the people of the area, he said. He said no rigging incident was reported in any constituency as the election was held in amicable and transparent manner.
Usman Dar said the PTI government would complete its constitutional term and would win the general election 2023 on basis of performance and prudent policies as the micro economic indicators were going in right direction.
He said the previous government of Pakistan Muslim League-Nawaz (PML-N) had left fragile economy by taking huge foreign loans during its regime.