Jahangir Tareen leaves for Pakistan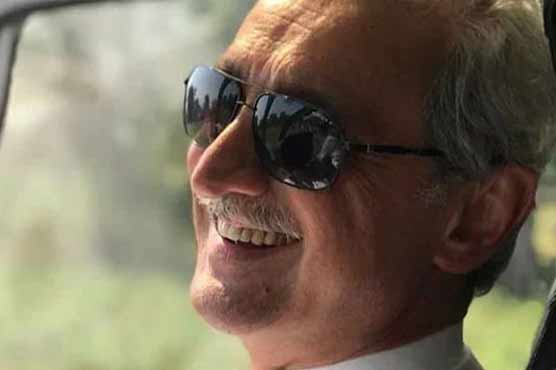 Jahangir Tareen had been in London due to his ailment.
LONDON (Dunya News) – Pakistan Tehreek-e-Insaf (PTI) leader Jahangir Khan Tareen has left for Pakistan from London along with his son.
Speaking exclusively in Dunya News program "Nuqta E Nazar" on Thursday, Jahangir Tareen while announcing return had said that he would be returning to Pakistan this month.
Tareen, a closest confidante of Prime Minister Imran Khan, had been in London due to his ailment.
The PTI leader had reached London around seven months ago immediately after the publication of the Sugar Commission report.
It may be noted that Tareen had reached London around seven months ago immediately after the publication of the Sugar Commission report.
In a message on the social networking website Twitter, Tareen had said that his dissenters should not speculate about his visit to England as he has only come to UK for a routine medical examination.
While explaining his visit to the UK, the PTI leader wrote that there was a lot of speculation in the media about my visit to the UK.
He said that speculators should not be worried as he had to come to the UK twice a year for a check-up because of a previous medical procedure in 2014. He said that he would return to Pakistan soon after completing the usual check-up and gaining a clean bill of health.
Jahangir Tareen hopeful of mending ties with PM Imran
In August, in his interview on Dunya News program "Dunya Kamran Khan Kay Saath", he said that he was very happy and encouraged to hear Prime Minister Imran Khan's words and the impression of not being friends with Imran Khan has also ended.
Tareen said that he had a great relationship with PM Imran Khan and we struggled together. He said that only we know the depth of our relationship and I appreciate his feelings.
Tareen said that we both have griefs that our relationship had reached this point and this is regretful, adding that we were together in political struggle, Panama case and judicial commission. "PM Imran Khan and I used to work together every day," he said.
He went on to say that the kind of relation I had with the prime minister, the misunderstandings will disappear. "I was the biggest supporter PM Imran's vision and one has to wonder who benefited from the end of our relationship," he said.
"I believe that all this has happened because of the Sugar Inquiry Commission's report," he said and added the report is not right as strange allegations have been levelled in the report. He said the allegations have nothing to do with the hike in the price of sugar.
He said: "It is strange that a commission was constituted to probe into the sugar price hike but the report did not mention why the price of sugar went up."
Speaking further on the sugar price hike, he said that whole sale and retail sector is not regulated in Pakistan and those who purchase stock do not mention their name on tax. "I would come out clean if transparent investigations were held on sugar crisis," he added.
The PTI leader said that the prime minister has also expressed his feelings to him. Imran Khan was told that I [Jahangir Tareen] was behind sugar crisis but I was not even involved in the decision to export sugar.
"The decision to export sugar was taken under the leadership of Asad Omar," he said adding that sugar is expensive in Pakistan due to high price of sugarcane.
The PTI leader further said that commodity prices rise on the basis of supply and demand, adding that the government itself is storing more wheat. The govt should release wheat in the market and the problem would be solved.