Linking IAF pilot Abhinandan's release to anything else is misleading: DG ISPR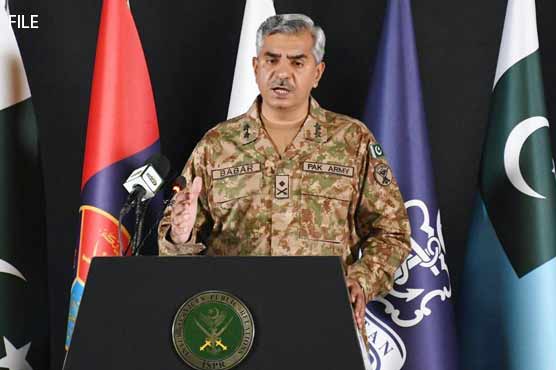 He said that such a statement is an attempt to make Pakistan's victory controversial
RAWALPINDI (Dunya News) – Inter-Services Public Relations (ISPR) Director General (DG) Major General Babar Iftikhar on Thursday said that linking the release of Indian Air Force (IAF) pilot Abhinandan Varthaman with any other situation is misleading.
Addressing a press conference on Thursday, the DG ISPR said that Pakistan while giving an opportunity for peace had decided to release Abhinandan Varthaman, who was captured when his IAF jet was shot down by the Pakistan Air Force (PAF) after he violated the Pakistan airspace.
He said that such a statement is an attempt to make Pakistan's victory controversial, adding that the enemy forces have imposed hybrid war on Pakistan in these circumstances.
Maj Gen Babar Iftikhar said that the negative statements have implications on national security.
He went on to say that Pakistan's response was strong and no weakness was shown about Indian Wing Commander Abhinandhan's release. General Iftikhar clarified that they released Abhinandhan as a peace gesture and in light of the Geneva Convention.
He said: "We downed two fighter jets of the enemy and captured Wing Commander Abhinandan Varthaman recalling Pakistan's first dogfight with India after the 1971 war."
He said Pakistan Army took action against Indian army in the broad day-light and he was only released as a gesture of peace.
Maj Gen Iftikhar said that Pakistan secured a "clear victory" that day against India. He said not only was India's hollowed state of preparedness exposed that day but the entire Pakistani nation's heads were held high.
He said this triumph was not only celebrated in Pakistan but the entire world recognised it. "India held its non-availability of Rafale jets accountable for the defeat," he added.
The DG ISPR said Pakistan demonstrated well its resolve and capability in response to Indian aggression. He said India violated the international laws after the Pulwama attack, and India had to lick the dust due to Pakistan's effective response. He said Pakistan shot down two Indian fighter jets and arrested Indian pilot Abhinandan.
He said Pakistan's armed forces that were already on high alert and gave a befitting response to India after its abortive attempt to strike inside Pakistani territory on 26 February 2019, on a purported training camp near Balakot.
"The enemy aircraft that had entered Pakistan airspace to drop explosives escaped while dropping their payload on empty mountains in sheer panic after seeing our Shaheens," Major General Babar Iftikhar said. He said the armed forces and the country's leadership were united in their objective to teach India a lesson. He said Pakistan responded to India in broad daylight after announcing it."
"I wish to set the history straight once more. Pakistan first demonstrated its capability and resolve. The decision was then made keeping all war options in mind and from a position of strength," Maj Gen Iftikhar said. He stressed that the civil and military leadership were prepared to combat "any sort of situation" with full preparedness.
DG ISPR said that the recent statement has caused a great deal of anger in the armed forces' rank and file. He said that both the leadership and rank and file of the armed forces are a single unit and will remain so.
The Major General also denied PML-N leader Muhammad Zubair's statement that DG ISPR had told half-truths about his meeting with COAS General Bajwa, saying that as the spokesman for the Pakistan Army, he told the whole truth.
---
PAF downs two IAF jets
---
On February 27, in response to Indian Line of Control (LoC) violation, Pakistan Air Force (PAF) had destroyed two Indian fighter jets and the wreckage of one aircraft fell in Central Kashmir's Budgam while the other's in Pakistan territory. Two of the Indian pilots had been killed in the incident.
Abhinandan's MiG-21 jet was shot down over Kashmir on February 27, after a dogfight in the skies over the disputed Himalayan region which sent tensions between India and Pakistan to their highest levels in years and alarmed world powers, who issued calls for restraint.
---
Abhinandan video statement
---
Following his arrest, the arrested Indian Airforce (IAF) pilot Abhinandan in video message had expressed gratitude to the Pakistan Army for their good conduct and hospitality shown to him.
The relaxed and composed pilot was seen standing with a cup of tea and taking sips from it frequently.
"What is your name?" asked the army officer. "Wing Commander Abhi Nandan," replied the pilot.
"I hope you have been treated well with us," he asked.
"Yes I have. I would like to put this on record and I will not change my statement if I go back to my country. The officers of Pakistan Army have looked after me very well. They are thorough gentlemen, starting from the captain who rescued me from the mob and from these jawans, the soldiers. And thereafter the officers of the unit which I was taken to," replied Abhi Nandan.
"This is how I expect my army to behave and I am very impressed by the Pakistan Army," he asserted.
"Ok wonderful. So Wing Commander! You hail from which place in India?," the army officer asked. " Am I suppose to tell you this? I am sorry Major! I am from down South.
"Are you married?" came the question. "Yes I am," said the pilot.
"I hope you like the tea?" asks the officer. Nandan replies: "The tea is fantastic, thank you."
"Not going into the specifics. Which aircraft were you flying?" questioned the army officer. "Im sorry Major. I am not supposed to tell you this but I am sure you found the wreckage," answered Abhi Nandan.
The army officer also asked the IAF pilot about his mission responding to which he stuck to his previous reply that he is not supposed to reveal the details.
---
PML-N leader Ayaz Sadiq statement
---
Speaking exclusively to Dunya News program "Nuqta-e-Nazar", PML-N leader Sardar Ayaz Sadiq had claimed that Foreign Minister Makhdoom Shah Mahmood Qureshi had said during a meeting that if Pakistan did not release Indian pilot Abhinandan, India would attack Pakistan at 9pm that night.
Ayaz Sadiq said that he tries not to make any personal attacks but when those in power refer to us as thieves or 'Modi ka yaar', we will have to respond.
"These are not serious people," he said. They don't even know the rules of parliament. Answering a question, he said that he had not met with Shehbaz Sharif in the past few days, however, if there is a meeting, it is nothing to hide.
On the statement he made earlier today in parliament, Ayaz Sadiq claimed that Foreign Minister Shah Mahmood Qureshi had said in an important meeting that if Indian pilot Abhinandan was not released, India would attack Pakistan that night. He claimed that the Foreign Minister had said this in a meeting between parliamentary leaders, including those of PPP and PML-N, and Army Chief General Qamar Javed Bajwa.
Ayaz Sadiq said that the opposition has supported this government on every issue, including Kashmir and Abhinandan, but it will no longer be appropriate to provide any further support.