Published On 20 October,2020 06:37 pm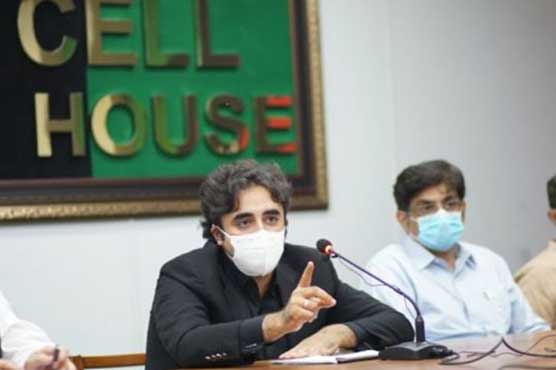 Bilawa said he is ashamed of what happened with Captain (r) Safdar
KARACHI (Dunya News) – Pakistan Peoples' Party (PPP) chairman Bilawal Bhutto Zardari on Tuesday said that he is ashamed of what happened with Pakistan Muslim League-Nawaz (PML-N) leader Captain (r) Muhammad Safdar.
Addressing a press conference in Karachi on Tuesday, he said that whatever happened to Maryam Nawaz and Captain (r) Safdar is extremely shameful.
The PPP chairman said that Sindh Chief Minister Syed Murad Ali Shah has ordered an investigation into the incident, adding that red lines have been crossed in yesterday's incident.
He demanded to know the identities of "the two people who went inside the IG's house" and where they allegedly took him.
Bilawal said that he wanted the Sindh Police "to function independently". "We don't want political interference in our police but that also doesn't mean we will tolerate interference from anywhere else," he said.
The PPP chairman said that he can't tolerate the issue the way it happened for it has crossed several redlines. "Police officers are going on leave en masse as they and their institution has been insulted. They are asking who were the two persons who entered the house of IGP Sindh at 4 am and where they took him to," he added.
He pointed out that Police is being used as political wing of PTI while verdicts about Punjab Police and other provinces remain different than Sindh Police. In Punjab, IGP has been transferred in last two years. "If the Karachi incident was planned as a conspiracy to defame us than surely it was a bad advice," he added.
"Such incidents gives the impression that there a government within the government and a government above and under the government," he added.

To a question, he said that his Gilgit-Baltistan electioneering drive schedule was prepared months but he would try to find out a private plane to attend PDM Jalsa in Quetta if there was fair weather else he would address the rally through video link. However, he said there would be 100% attendance of the PPP in all the PDM protests.
To another question, the PPP chairman further pointed out that island ordinance has caused huge damage in Sindh and there is no other way except to reject the ordinance through resolution in Sindh Assembly.
On Monday, Captain (r) Muhammad Safdar was arrested from a hotel room in Karachi for for violating the sanctity of the the mausoleum of the Founder of the Nation but was released in the evening a court.
Sindh Police raided a private hotel in Karachi early morning and detained Captain Safdar. He was produced before the court in an armored vehicle.
Pakistan Muslim League-Nawaz (PML-N) vice-president and wife of Muhammad Safdar, Maryman Nawaz took to Twitter and said, "Police broke my room door at the hotel I was staying at in Karachi and arrested Capt. Safdar."
"I was in the room, sleeping, when they barged in," Maryam Nawaz said.
It is pertinent here to mention that Pakistan Tehreek-e-Insaf (PTI) leaders had filed a complaint against Maryam Nawaz and Captain (retd) Safdar among 200 PML-N workers at the Brigade Police Station in Karachi for chanting slogans at the Mazar-e-Quaid.
According to the FIR, the case had been registered on Section 6 (convening of meetings or processions at the mausoleum), Section 8 (entry into mausoleum with weapon) and Section 10 (penalty for contravention of provisions) of The Quaid-i-Azam's Mazar (Protection and Maintenance) Ordinance, 1971.
It is pertinent here to mention that PML-N leaders had paid a visit to the Mazar-e-Quaid before the Pakistan Democratic Movement's (PDM) rally in Karachi on Sunday and chanted political slogans at the mausoleum.