Published On 19 October,2020 10:43 am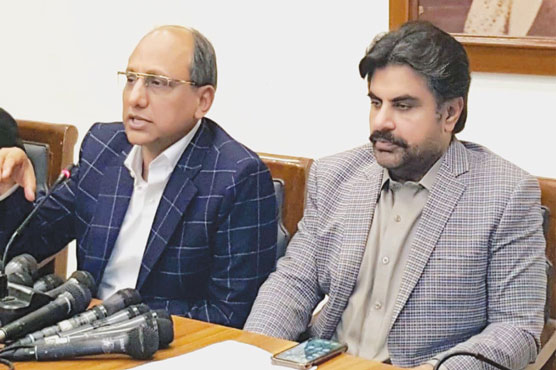 Captain (retd) Safdar was arrested from a hotel in Karachi on Monday.
KARACHI (Dunya News) – Sindh government has strongly condemned the arrest of Pakistan Muslim League-Nawaz (PML-N) senior leader Captain (retd) Safdar by its own police.
Provincial information minister Nasir Shah said that government has taken strict notice of the arrest of the PML-N leader and ordered a high level inquiry of the incident.
Nasir Shah, while blaming federal government for the arrest, said that officials of any level of Sindh government were not informed about the arrest.
He further said that PTI leaders gave separate applications for registration of case against PML-N leaders; however both applications were declared illegal.
Earlier, Saeed Ghani said that actions of Captain (retd) Safdar at Quaid-e-Azam's mausoleum were inappropriate; however, the arrest of the PML-N leader was not ordered by government of Sindh.
He further said that this action of police is an attempt to create division in parties of Pakistan Democratic Movement (PDM) but this conspiracy will be foiled.
Police arrested Captain (retd) Muhammad Safdar on Monday for violating the sanctity of the Quaid's mausoleum after raiding a private hotel in Karachi early morning.
Pakistan Muslim League-Nawaz (PML-N) vice-president and wife of Muhammad Safdar, Maryman Nawaz took to Twitter and said, "Police broke my room door at the hotel I was staying at in Karachi and arrested Capt. Safdar."
"I was in the room, sleeping, when they barged in," Maryam Nawaz said.
Let it be known that Pakistan Tehreek-e-Insaf (PTI) leaders had filed a complaint against Maryam Nawaz and Captain (retd) Safdar among 200 PML-N workers at the Brigade Police Station in Karachi for chanting slogans at the Mazar-e-Quaid.
According to the FIR, the case had been registered on Section 6 (convening of meetings or processions at the mausoleum), Section 8 (entry into mausoleum with weapon) and Section 10 (penalty for contravention of provisions) of The Quaid-i-Azam's Mazar (Protection and Maintenance) Ordinance, 1971.
It is pertinent here to mention that PML-N leaders had paid a visit to the Mazar-e-Quaid before the Pakistan Democratic Movement's (PDM) rally in Karachi on Sunday and chanted political slogans at the mausoleum.