Published On 18 October,2020 11:07 pm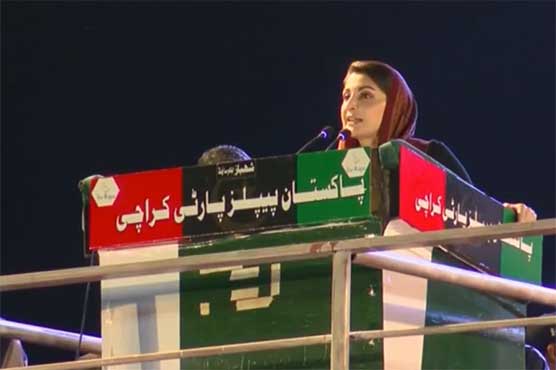 Maryam said the fear was visible from every word of PM Imran's speech and actions
KARACHI (Dunya News) – Pakistan Muslim League-Nawaz (PML-N) vice president Maryam Nawaz on Sunday while hitting out at Prime Minister Imran Khan said that a man was screaming and mourning his defeat and failure yesterday.
Addressing the rally in Karachi on Sunday, she said that the rulers have panicked after even first anti-government rally of the Pakistan Democratic Movement (PDM), an alliance of major opposition parties.
The PML-N vice president said that the fear of your [PM Imran] was visible from every word of your speech and actions, adding that this is the fear of the power of people that was witnessed by the entire nation on television screens.
"If there is no one to teach you [how to react under pressure] then you could have learned from Nawaz Sharif," she said and added
Referring to PM Imran's statement mockingly referred to her as a "nani", Maryam Nawaz said, "Nani is the mother of the mother; you have disrespected this wonderful, beautiful relation."
Lashing out at PM Imran, she said that children should not get involved in elders' fights.
Talking to media before leaving to attend Karachi rally, Maryam Nawaz said that she and her party leaders are not afraid of being arrested.
The PML-N vice president said that campaign against the incumbent government of Pakistan Tehreek-e-Insaf (PTI) is getting decisive.
While responding to a question regarding Prime Minister (PM) Imran Khan's decision to not issue production orders, Maryam Nawaz said that those who think that VIP protocols are being given to the opposition leaders in jails are wrong.
Opposition leaders including Bilawal Bhutto Zardari, Maryam Nawaz, Maulana Fazlur Rehman, Mehmood Khan Achakzai and Mohsin Dawar on Sunday arrived at Karachi's Bagh-e-Jinnah for the second power show of the joint opposition front Pakistan Democratic Movement (PDM) against Prime Minister Imran Khan-led government.
Thousands of people assembled for the anti-government rally. People were seen waving opposition parties flag and raising slogans. This was the second power show of the 11-party opposition alliance PDM. The first was held in Gujranwala in Lahore.
Around 160 feet long and 60 feet wide stage had been placed in Karachi's Jinnah Bagh while over 50,000 chairs have also been arranged to facilitate the participants.