CM, Asim Bajwa agree to inaugurate Rashkai Economic Zone soon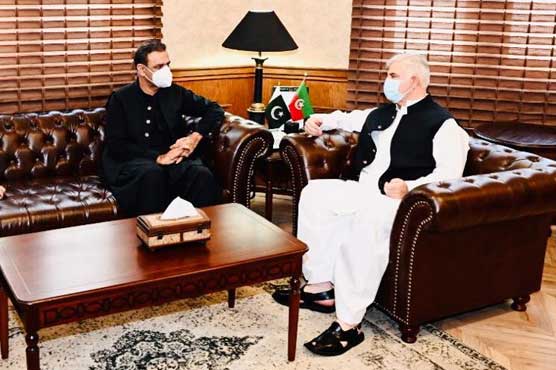 CM, Asim Bajwa agree to inaugurate Rashkai Economic Zone soon
PESHAWAR (Dunya News) - Chief Minister of Khyber Pakhtunkhwa Mahmood Khan and Chairman China-Pak Economic Corridor (CPEC) Authority Lt Gen (retd) Asim Saleem Bajwa agreed to inaugurate Rashakai Economic Zone as soon as possible.
According to details, Chief Minister Khyber Pakhtunkhwa Mahmood Khan had a meeting with Special Assistant to Prime Minister Imran Khan and CPECA Chairman Lieutenant General (retd) Asim Saleem Bajwa to discuss CPEC projects.
Preparations for the 10th JCC meeting of CPEC and the proposed development plans of the province for the meeting were discussed.
During the meeting, consultations were held regarding energy, road infrastructure, agriculture, industry, tourism and social sector projects and it was agreed to inaugurate Rashakai Economic Zone at the earliest.
— Asim Saleem Bajwa (@AsimSBajwa) October 5, 2020
The Chief Minister said that Prime Minister Imran Khan would soon lay the foundation stone of Rashakai Economic Zone. More than 700 applications have been received for industries in the Economic Zone.
He said that the Rashakai Economic Zone will usher in a new era of industrial development. Government is giving power generation to local industries at subsidized rates.
Chairman CPEC Authority Asim Saleem Bajwa said that important projects for the promotion of agriculture would be submitted for approval along with other important projects.