Published On 22 September,2020 05:27 pm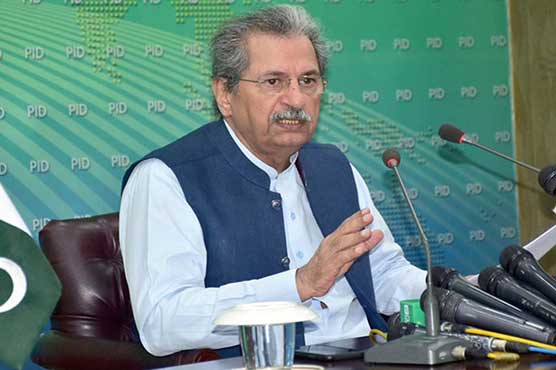 Shafqat Mehmood said the decision has been taken after reviewing the countrywide health conditions
ISLAMABAD (Dunya News) – The government has allowed schools across the country to resume classes for grade six to eight from Wednesday.
Addressing a press conference in Islamabad on Tuesday, along with Prime Minister s Special Assistant on Health Faisal Sultan, the Minister for Federal Education Shafqat Mehmood said following the decision of the Federal government, Punjab, Balochistan, Khyber Pakhtunkhwa, Gilgit-Baltistan and Azad Kashmir have agreed to resume middle school classes from Wednesday.
However, Sindh government has decided a week s delay in implementing this decision and classes will not be opened in Rawalakot, Azad Kashmir.
Shafqat Mehmood said the decision has been taken after reviewing the countrywide health conditions and spread of Corona cases.
The Minister said decisions regarding resumption of primary school classes will be taken after another review meeting to be held next week.
Speaking on the occasion, Special Assistant to the Prime Minister on Health Dr Faisal Sultan urged the school administrations and parents to ensure implementation of SOPs (standard operating procedures) for COVID-19 pandemic.
Addressing a press conference here at Press Information Department (PID) flanked by Minister for Federal Education Shafqat Mahmood, he asked people to wear masks, especially in closed areas to curb the spread of coronavirus.
He said that a comprehensive strategy was devised to reopen educational institutions in the country. He said there was no significant change after the educational institutions reopened in the country.
Dr. Faisal Sultan said that on September 14, average infections was stood at 599 and after that the infections remained "somewhat the same", adding that on September 21, the cases registered at 623 and on September 22 were 582 cases.
He said that in the month of September the total number of positive cases from tests conducted it has remained under 2 percent, while on September 21, 1.9 percent and on September 22 it was 1.61 percent.
He said that in the past week, the change in the number of cases was not significant enough to postpone the reopening of schools.
"In public institutes, over 74,000 tests were conducted and in private institutes, nearly 20,000 tests were taken. In Punjab's public and private institutes, the ratio remained at 0.12 percent and 0.55 percent.
In Sindh province the positivity ratio stood at 0.76 percent and 0.88 percent in public and private institutes. While in Khyber Pakhtunkhwa province the public educational institutes recorded 1.70 percent positivity and private institutes registered 0.86 percent, whereas, in Balochistan's public institutes the ratio was 11.8 percent.
He informed that National Command and Operations Centre (NCOC) would review the country's infections ratio on daily basis as well as the results reported by testing centres near educational institutions that were allowed to open in the first phase.
Earlier today, National Command and Operation Centre (NCOC) decided to ahead with second phase of reopening of educational institutions and reopen schools for grade six to eight students.
The NCOC meeting chaired by Federal Minister for Planning Asad Umar was held in federal capital to review coronavirus situation after reopening of schools in the country. Officials of Ministry of Education informed the meeting that strict implementation of SOPs in being ensured in all educational institutions and they are ready for the second phase.
Meanwhile, Punjab Education Minister Murad Raas and Khyber Pakhtunkhwa Education Minister Shahram Tarakai also announced that middle schools will be reopened from tomorrow. Murad Raas said that coronavirus pandemic is not over in the country so virus cases will emerge in schools but strict implementation of SOPs should be ensured.
On the other hand, Sindh government has decided to postpone the second phase of reopening of educational institutions.
Sindh Education Minister Saeed Ghani said in a news conference that the coronavirus standard operating procedures (SOPs) were not followed 100% at the government schools but situation was relatively better.
"Classes from fifth to eighth will not resume on September 21 and situation will be analyzed after a week. Middle classes can be started on September 28 if condition improves but will be postponed if situation deteriorates."
It is pertinent to mention here that in first phase universities, colleges and school for ninth and tenth grade were allowed to reopen from September 15 under strict implementation of Standard Operating Procedures (SOPs). Primary Schools will be allowed to reopen from September 30 in third phase.