No one can deny importance of CPEC: FM Qureshi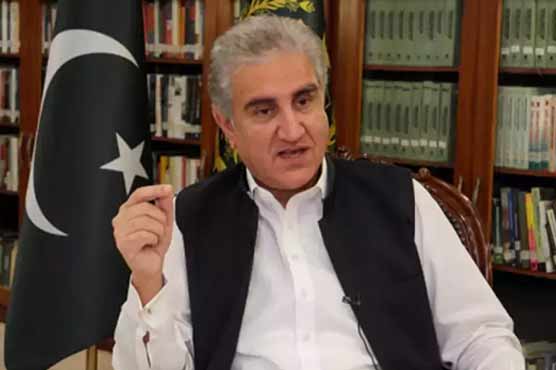 He said that Chinese President Xi Jinping would soon visit Pakistan.
BEIJING (Dunya News) – Foreign Minister Shah Mahmood Qureshi on Thursday said that Pakistan has strong ties with China and new era is about to begin in the future, adding that China and Pakistan will together achieve their common goals.
Speaking exclusively in Dunya News program "Dunya Kamran Khan Kay Sath", he said that Chinese President Xi Jinping would soon visit Pakistan.
FM Qureshi went on to say that we have the full cooperation and support of China in the Afghan peace process, adding that changes are taking place in the region. "Prime Minister Imran Khan has set the direction for Pakistan," he added.
The minister also said that the country's civil-military leadership are on same page.
He said that our position on Kashmir is crystal clear and we cannot overlook the aspirations of the people on Kashmir.
The foreign minister hoped that Saudi Arabia will also stand with Pakistan on the Kashmir issue.
He said that he held discussions with Saudi Foreign Minister on Kashmir issue a few days ago and the stance of most of the countries of Muslim Ummah will also come soon.
Qureshi said that Prime Minister Imran Khan had taken a firm stand on the situation in the Middle East, while the Saudi Foreign Minister had also taken a firm stand on Israel.
Earlier today, Shah Mahmood Qureshi arrived in southern China's Hainan province on a two-day visit to participate tin he second round of the China-Pakistan Foreign Ministers' Strategic Dialogue.
The foreign minister was welcomed by senior Chinese officials and Pakistan Ambassador to China Moin ul Haque at Sanya airport.
During the dialogue, he will lead the Pakistan side while the Chinese side will be led by China's State Councilor and Foreign Minister Wang Yi. During the dialogue, both sides will, inter alia, discuss cooperation on COVID-19, bilateral relations, and regional and international issues of mutual interest.
Terming the dialogue highly relevant, a Chinese Foreign Ministry's spokesperson said that it would help the two countries enhance strategic mutual trust, deepen practical cooperation and strengthen close coordination on international and regional affairs.
This dialogue mechanism was a platform for the two sides to coordinate exchanges and cooperation in various fields, make policy suggestions on the development of bilateral ties and enhance coordination and co-communication on the international and regional issues.
The first dialogue was held in Beijing last year on March 19, which led to many consensuses and played an important role in the development of bilateral relations.