Last Updated On 20 July,2020 06:05 pm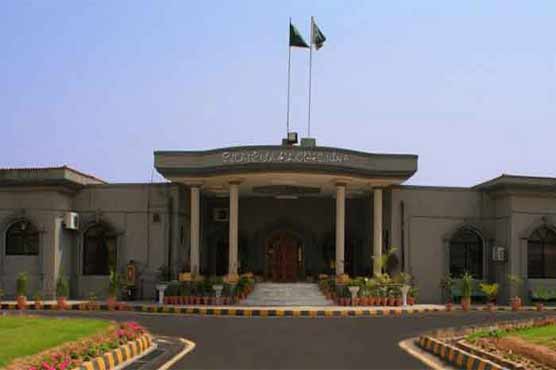 Deputy AG said advisers could not be part of the cabinet but all can be part of the sub-committees.
ISLAMABAD (Dunya News) – Islamabad High Court (IHC) on Monday sought reply from the federal government on petition pertaining to the appointments of advisers holding dual nationality.
During the court proceedings, Member National Assembly Mohsin Shahnawaz Ranjha said that according to the law, Prime Minister Imran Khan's advisers cannot be part of the federal cabinet then how they were attending the meetings.
In his remarks, Deputy Attorney General Raja Khalid Mahmood said that the advisers could not be part of the cabinet but all can be part of the sub-committee.
After brief arguments, the court adjourned the hearing and sought a reply from the federal government within two weeks.
Talking to media after hearing, Mohsin Shahnawaz Ranjha said that it was not acceptable for unelected people to make decisions for Pakistan.
The Pakistan Muslim League-Nawaz (PML-N) leader alleged that Prime Minister Imran Khan had once again taken a U-turn from his stance.
He said that sensitive issues come under discussion in the federal cabinet, adding that they wanted the court to make decisions in accordance with the constitution and law.
On Saturday, PM Imran Khan s 20 advisers and special assistants declared their assets and nationalities. The list of their possessions had been published on the official website of Pakistan government's cabinet division. At least six special advisers stated that they have dual nationalities as others announced self-declaration of their movable and immovable assets worth millions of dollars.
---
Details of assets owned by Pakistani cabinet members:
---
Shahzad Syed Qasim – PM's Aide on Power Division and Coordination of Marketing and Development of Mineral Resources owns assets in Pakistan, UAE and US. His three properties in UAE include two villas in Jumeirah Golf Estates and Sienna Lakes, Jumeirah Golf Estates and an apartment at Park Towers, DIFC – all worth Dh20,688,000 (Rs942 million). He also has three cars in the UAE worth Dh400,000. In the US, he has property worth US$865,000 (Rs144 million) while he has Rs4 billion in various local and foreign bank accounts and retirement funds including $2.1 million in US.
Nadeem Babar – Special Assistant on Petroleum Division Nadeem Babar owns assets worth over Rs2.7 billion, including several properties in Pakistan and abroad and stakes in more than 30 local and foreign companies.
Zulfi Bukhari – Prime Minister's Special Assistant on Overseas Pakistanis, Sayed Zulfikar Bukhari, possesses over Rs2 billion. He has four gifted or inherited properties in Pakistan. His properties in the United Kingdom (a flat, furniture and paintings) are worth £5.28million (Rs1 billion). He owns four luxury vehicles in the UK, worth more than £578,000 (Rs121million) and one Toyota Land Cruiser in Pakistan. He also owns around Rs357million in banks and cash and around Rs482m in business capital.
Sardar Yar Muhammad Rind – PM's Assistant on Ministries of Water Resources, Power and Petroleum in Balochistan, Sardar Rind, has assets worth Rs812 million total. Rind's properties in UAE's Spring Residential Villa in Dubai and apartment at International City Dubai are worth Rs75million.
Tania Aidrus – PM's Assistant on Digital Pakistan Tania Aidrus owns four properties abroad — two in the US and one each in the UK and Singapore — with a value of Rs454million. The properties in Singapore and US are under mortgage. She has no property in Pakistan. Her bank accounts both in Pakistan and abroad are worth Rs25m. She owns a Toyota Fortuner vehicle.
Asim Saleem Bajwa – PM's Assistant on Information & Broadcasting Lt Gen (retd) Asim Saleem Bajwa owns property worth Rs158 million — two in Islamabad, two in Karachi, two in Lahore and one each in Rahim Yar Khan and Bahawalpur.
Shahbaz Gill – PM's Assistant on Political Communication Shahbaz Gill owns a total of 118 million including more than Rs2.6 million in local banks while more than Rs31 million in JPMorgan Chase in the US and a joint family account in the Busey Bank (US) that has Rs1.6 million.
Dr. Moeed Yusuf – PM's Assistant on National Security and Strategic Policy Planning Dr. Moeed Yusuf has total assets worth Rs109million. He owns two cars worth Rs8.54m including an Audi A3 – both received as gifts.
Mirza Shahzad Akbar – Accountability Assistant Shahzad Akbar, along with his spouse, has properties worth Rs72 million.
Usman Dar – PM's Assistant on Youth Affairs Usman Dar owns nearly Rs62 million including Rs35m cash in hand and Rs20m in bank and investment in shares.
Shehzad Arbab – Adviser to PM on Establishment owns assets worth Rs100 million, including houses, plots, and shops.
Nadeem Afzal Gondal - PM's Assistant on Parliamentary Coordination Nadeem Gondal owns land worth more than Rs7.8 million and residential property worth over Rs9.4 million. His business capital is Rs2.5 million.
Ali Nawaz Awan – PM's Assistant on Capital Development Authority Affair Ali Awan owns property in Pakistan worth Rs39 million. He has no properties abroad. His business capital amounts to Rs5.6million.
Dr. Zafar Mirza – PM's Assistant on National Health Services and also Minister of State, Dr. Zafar Mirza owns assets worth Rs50.7 million, including a house worth Rs20 million and two plots worth Rs30 million.
Sania Nishtar - PM's Assistant on Poverty Alleviation and Social Safety Sania Nishtar, along with her husband, have a total bank balance of Rs14.8 million.
---
Assets of PM Khan's advisers

---
None of the five advisers hold a foreign nationality, according to official documents. Here are the details of their assets:
Dr. Hafeez Shaikh – Adviser to PM on Finance Dr Hafeez Shaikh reportedly owns properties and assets worth around Rs300m.
Dr Ishrat Hussain – Adviser on Institutional Reforms and Austerity Dr. Ishrat Hussain owns a residence worth Rs45 million and three properties in the US worth US$2.1million. He has stocks worth Rs32million and Rs3.2 million in local banks and around $348,000 in foreign banks.
Dr. Abdul Razzak – Adviser to PM on Commerce and Investment Abdul Razak Dawood owns assets worth over Rs1.6billion. He has shares worth Rs521million while his wife owns stock worth Rs51.85 million. Together with his spouse, he owns Rs145m worth of lands. He has Rs343m in cash and at banks.
Malik Amin Aslam - Adviser on Climate Change Malik Amin Aslam owns 14 immovable assets. He has about Rs5.58 million in Pakistan banks and 27,011 pounds in foreign banks. He owns two vehicles worth Rs6.5million.
Babar Awan - Adviser on Parliamentary Affairs Dr. Babar Awan owns assets worth Rs110m and Rs567m cash in hand. He also declared a property in Spain worth Rs11 million. He owns six vehicles worth Rs16.8 million.
---
Opposition demands resignations
---
Many Pakistanis hailed the decision saying the declaration demonstrates PM Khan's commitment towards accountability and has set new standards of transparency by the government. However, the move led to strong criticism by opposition leaders over dual nationalities of the advisers.
PPP leader and Member National Assembly (MNA) Nafeesa Shah said that the information about assets and dual nationalities of advisers and special assistants to the premier had opened a "pandora s box".
She said that giving Moeed Yousaf, an American citizen, access to sensitive issues, including national security, is a matter of grave concern, adding that Nadeem Babar s shares in petroleum companies is a conflict of interest. "The selected Prime Minister has been exposed," she said.
Senator Sherry while taking a jibe at the prime minister said that Imran Khan has repeatedly said in the past that he stands against government aides, advisers, ministers who swear an oath of allegiance to another country.
She questioned whether dual nationals were building "Naya Pakistan", adding that if PM Khan did not know, it is a matter of further concern.
On the other hand, Pakistan Muslim League-Nawaz (PML-N) leader Marriyum Aurangzeb also demanded resignations of PTI government's ministers and advisors holding dual nationality.
The PML-N spokesperson stated that PM Imran Khan had said that those having dual nationality cannot take decisions for the country. She further asked why those possessing foreign passports have been allowed to sit in the cabinet.