Politicians played major role in destruction of national institutions: PTI ministers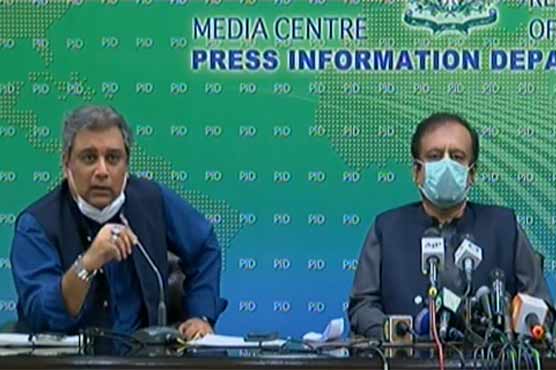 Politicians played major role in destruction of national institutions: PTI ministers
ISLAMABAD (Dunya News) – Federal ministers of the PTI government have said that the entire nation is aware of how PIA was mismanaged in the past, politicians have played a major role in the destruction of national institutions. Mushahidullah Khan hired his own relatives in the airline and upon investigation, the presence of corrupt elements was revealed throughout.
Federal Minister for Maritime Affairs Ali Zaidi, while addressing a press conference with Shibli Faraz and Shahzad Akbar, said that between 2010 and 2018, 236 people were recruited out of the way. In March 2019, our government introduced a new aviation policy which will elevate CAA to one of the top aviation authorities in the world. Those involved in illegal recruitments will be held accountable, he added.
Ali Zaidi said that our government is for the people, we cannot be involved in cover-ups. It is prudent to own up to our shortcomings and endure short-term losses for long term benefits. He said that the competence of pilots is a sensitive issue and the government's foremost priority is the safety of passengers.
He said that it was written in Uzair Baloch's JIT report that he conducted killings on directions of a certain political party. We will continue to reveal key investigation findings and conclude the inquiry as soon as possible, he added.
Speaking on the occasion, Federal Minister for Information Shibli Faraz said that in the last ten to fifteen years, the national airline has been in a constant decline, but we will restore it to its former glory. He clarified that all pilots who are currently allowed to fly aircrafts have successfully gone through the scrutiny process.
The Special Assistant to PM for Accountability Barrister Shahzad Akbar said that the Prime Minister has directed Civil Aviation officials to complete the investigation as soon as possible. The final report of 28 pilots has been submitted to the cabinet and due action is being taken against them, he added.
Shahzad Akbar said that this was exactly the reason why in 2018, Chief Executive Air Blue Shahid Khaqan Abbasi was also summoned. He was the Prime Minister of the country and also the Chief Executive of Air Blue at a time when PIA nosedived but his personal airline flourished.
Responding to a question, he said that the government has accepted the Supreme Court's decision in Justice Faiz Isa case. The Supreme Court directed FBR to investigate the matter and the government is no longer a party in the matter.