Last Updated On 28 June,2020 06:20 pm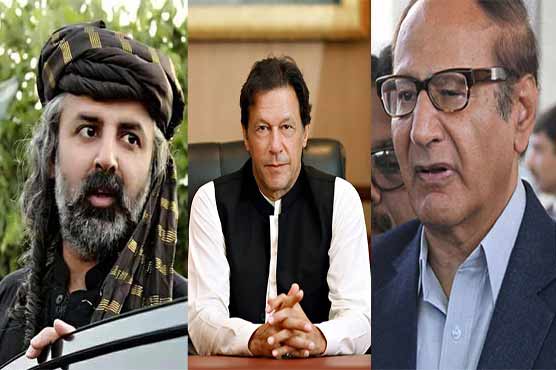 Delegations of coalition partners will meet PM Imran at 6 pm
ISLAMABAD (Dunya News) – Jamhoori Watan Party (JWP) chief Shahzain Bugti retracted the decision of not attended dinner being hosted by Prime Minister Imran Khan.
Earlier, JWP leader Shahzain Bugti had refused to attend the dinner being hosted by the premier and said he wouldn't support the government until the promises made to them are fulfilled. "We will support him, if PM Imran issues an order to solve the problems of Balochistan now," he said.
Shahzain Bugti said that the federal ministers had approached him to attend the dinner but he told them to fulfill the promise they had made.
"Not a single promise of resolving Balochistan's problems has been fulfilled," he said and added the issues of power, health, education and the problems of the homeless people of Dera Bugti have not yet been resolved.
Bugti went on to say that the telephonic conversation with Pakistan Peoples' Party (PPP) chairman Bilawal Bhutto Zardari was good and he would meet him soon. He said they also discussed close relations between Bugti and Bhutto families.
Bilawal Bhutto s position on the NFC and the 18th Amendment is the same as ours, he said.
According to sources, a delegation of allied parties will meet PM Imran at 6 pm. On behalf of Balochistan Awami Party (BAP), Federal Minister for Defence Production Zubaida Jalal, Mir Khalid Magsi and Sardar Israr Tareen will attend the dinner and discuss budget approval and important issues related to and Balochistan.
A delegation of the Muttahida Qaumi Movement-Pakistan (MQM-P) is also scheduled to meet the prime minister at 6.30 pm. The delegation will include Khalid Maqbool Siddiqui, Aminul Haq, Osama Qadri, Iqbal Muhammad Ali and Kishore Zahra.
Source further said that efforts are also under to woo the PML-Q to attend the dinner and National Assembly Speaker Asad Qaiser has called on Federal Minister Tariq Bashir Cheema on this important issue.
The two leaders discussed various issues, but the PML-Q stands firm on its decision not to attend the dinner.
Tariq Bashir Cheema told the NA speaker that the party leadership could not participate due to busy schedule, adding that the PML-Q is a government ally, will support the budget approval.
Meanwhile, the Balochistan Awami Party (BAP), an ally of the Pakistan Tehreek-e-Insaf (PTI) government with one minister in the cabinet, has decided to attend PM s dinner and give full support to government in approving budget.
It is pertinent to mention that Prime Minister Imran Khan has decided to host a dinner for party members and allies today in order to remove their reservations.
The premier will listen to their concerns in the gathering and also hold consultations regarding approval of budget 2020-21 along with other party affairs.