Govt signs tripartite agreement for 1124 MW Kohala Hydro Power Project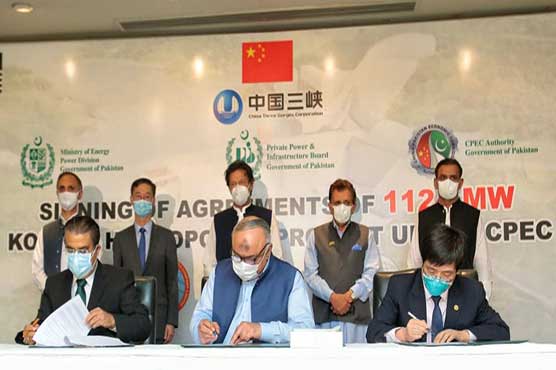 Govt signs tripartite agreement for 1124 MW Kohala Hydro Power Project
ISLAMABAD (Dunya News) - Kohala Hydropower Project has reached a historic tripartite agreement, with an investment of 2.4billion dollars in the energy sector.
Prime Minister Imran Khan, Federal Ministers, Chinese Ambassador Yao Jing and others witnessed the ceremony.
Prime Minister Imran Khan addressed the signing ceremony of Kohala Hydropower Project Agreement and said that prices have gone up due to generation of electricity from imported fuel. Generating electricity from oil also affects the environment. Therefore government has focused on clean energy instead of imported fuel. Leading Three Gorges Company will develop Kohala Hydel project. The project will create employment opportunities in Azad Kashmir, he added.
He said the project has been the largest investment of $2.4 billion and Pakistan has great potential to generate electricity from water.
Earlier, retired Lieutenant General Asim Saleem Bajwa, chairman of the China Pakistan Economic Corridor Authority (CPECA), described it as a historic day in a tweet and said that it has been the largest investment from an IPP of $ 2.4 billion towards the energy sector.
The Chairman CPEC Authority said that with the clear direction of the Prime Minister to expedite the work on the Economic Corridor projects, all parties have worked hard for this day.