Pakistan displays all four missiles of downed Indian MiG-21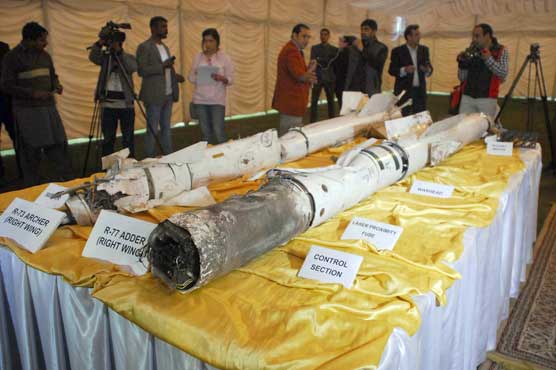 Air Commodore Syed Umar Shah said that no missile was fired by Indian MiG-21
ISLAMABAD (Dunya News) – Pakistan has displayed all four missiles of Indian Wing Commander Abhinandan's MiG-21 in an exhibition.
During exhibition, Air Commodore Syed Umar Shah said that no missile was fired by Indian MiG-21. He also debunked the Indian claims of downing a Pakistani F-16 fighter and said that Indian Air Force (IAF) chief is spreading propaganda.
He said that PAF identified all aircrafts present in the Indian airspace and shot down two of them. He added that PAF had identified four more targets but did not destroy them to avoid bloodshed.
During the briefing, he said that if PAF wanted, it could have inflicted heavy casualties and financial loss on India.
He also said that PAF have full authority to use all weapons available to defend the country.