Ali Zaidi warns Sindh govt of contempt proceedings if SHC's orders not followed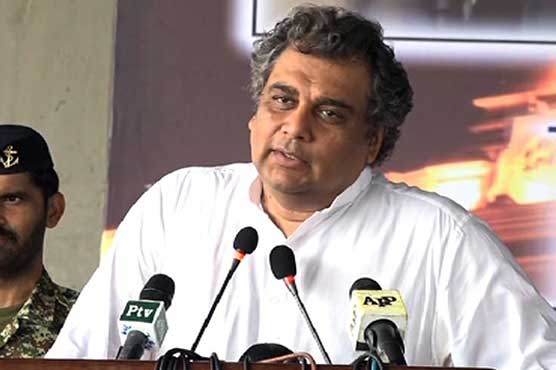 Zaidi said that they will not relent until justice is served.
KARACHI (Dunya News) - Federal Minister for Maritime Affairs Syed Ali Haider Zaidi on Saturday said that he will file contempt proceedings against Sindh government if they fail to act on the orders of the Sindh High Court (SHC) and provide them the certified copies of the Joint Investigation Team reports about 'political backers' of criminal elements.
He took to Twitter and expressed that even before he joined the politics, he used to run into people who had lost their loved ones in the "violent, political battleground of Karachi". He said that many parents did not even know how deeply their sons were involved in these violent political mafias and gangs of the metropolis.
He continued saying that the political and sectarian terrorism was curbed following the unfortunate APS incident and the city was cleaned up with a strong operation.
Ali Zaidi expressed that big criminals and their gangs were neutralized but unfortunately those who were politically backing them were left as untouchables. He added that the JITs were formed who wrote detailed reports mentioning all of the elements involved either directly or indirectly in those heinous crimes.
"The political leadership of that time once again decided to push everything under the garb of political expediency and did not release the reports of these JITs," he said.
Maritime Affairs Minister shared that he filed a petition as a civilian in the SHC in 2017 asking courts to release the JITs reports as a common man wanted them to expose the names who were backing these criminal elements.
Zaidi expressed that he faced threats; he was pressurized and warned as many said that it was a suicidal move where others termed it as a political stunt. "As a common citizen, there was no 'Federal Govt security detail' following me around town!" he added.
He asserted that he drew strength from his leader, Prime Minister Imran Khan who has relentlessly pursued and fought for justice without any fear or favor. "We have always maintained that all must be held accountable irrespective of the political implications or the office they hold!" he added.
He went on to say: "By the Grace of Almighty, on Jan 28th, 2020, the Honorable SHC ordered the Sindh Government to immediately release the JIT reports of Uzair Baloch, Nisar Moorai and Baldia factory fire.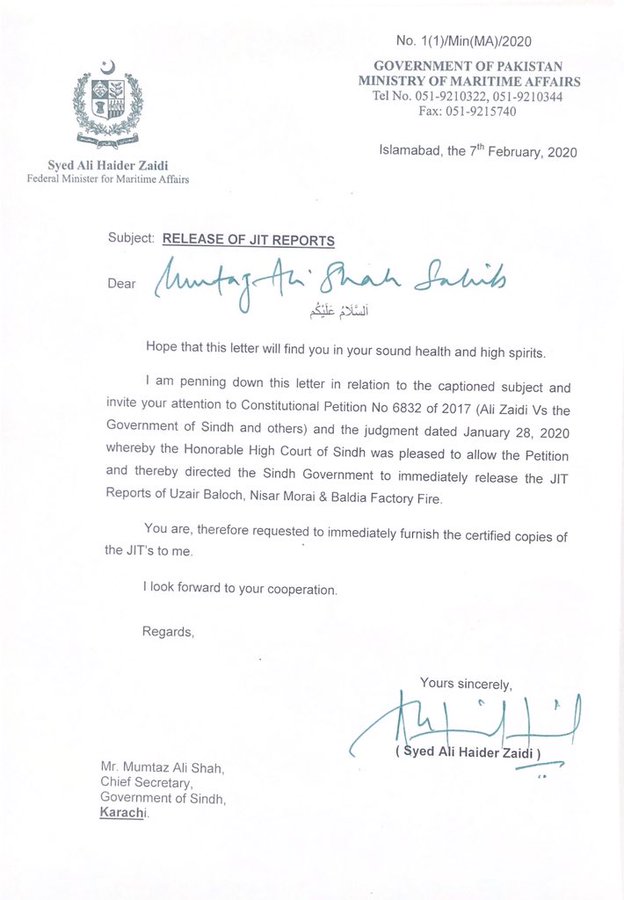 "I must complement my attorney, Barrister Omar Soomro and his team who did not miss a single hearing on the case & took the pressure that comes with such a case.
"Yesterday, I have requested the Chief Secretary of Sindh to act on the orders of the SHC & provide me with certified copies of the JIT reports. If the Sindh Govt does not follow the orders of the SHC, we will be left with no choice but to file contempt proceedings."
Zaidi said that they will not relent until justice is served.